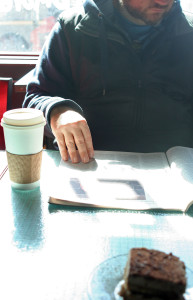 One thing I've yet to cover, of all things, is where to eat in Baltimore when visiting or when you just can't be bothered to clean another dish. I've mentioned my personal struggle with Baltimore in general before so my opinions on the city are admittedly often laced with frustration and lacking in Baltimore pride. But when it comes to the topic of dining out in B-more, I find my frustrations bubble up into something completely uncontainable all together. Having traveled and experienced what dining is like in more progressive areas, and with Baltimore sandwiched directly between two of those areas with plenty of innovative cuisine, D.C. And Philly, I find that Baltimore just doesn't have a good excuse for a lack of gourmet plant-exclusive meals for a city that prides themselves on their food scene. What mainstream Baltimore calls a food scene, I call animal abuse and exploitation, it's not innovative, it's just more of the same harmful and unkind foods wrapped up in pretty "farm-to-table" and "humane" labels to make everyone feel fancier and better about taking someone's life. I wonder, if it's so innovative here, why haven't the majority of chefs figured out how to make plants the center stage of their menus in this day and age and reduce harm when almost every vegan home cook with no professional experience I know is whipping up impressive menus of their own just from the produce department? Vegans may be called a lot of things but one thing we do deserve is a gold star in innovation and creativity. It's amazing what we can do when we are unwilling to waiver on our morals and ethics and we don't want to settle for boring and bland.
You can probably find something vegan-friendly or veganizable at many restaurants and I frequently find myself in the place where I am grateful vegans aren't left eating iceberg lettuce while their dining companions feast on 3 courses, but also know we deserve quality and variety too. It's often believed that being the minority diners, we should be grateful for any microwaved baked potato or side dish of beans thrown our way. But we are the future and the fate of our habitable environment depends upon veganism being the majority default so we are kind of a big deal, leading this charge and all. And the vegan population is growing by leaps and bounds, we are too a demographic of consumers that businesses with unsustainable practices are completely overlooking, why they want to exclude us or throw us a pity option is just bad business. They are also overlooking just how delicious vegan food is and that you don't have to be vegan to like it. Good food sells itself, it doesn't need to be marketed as some weird option to keep the vegans quiet. So many people are trying to reduce their animal consumption for health or environmental reasons alone, and just looking for something different to enjoy.
With that said, thankfully there are some places that have stepped up when other restaurants are stuck in the stone ages and missing out on an entire growing demographic. Time will balance it out, more and more we are collectively fighting to move further away from barbaric practices, systematic forms of oppression, and we all seek more peace and less unnecessary harm and cruelty regardless of what Trump is selling.
In an effort to keep this list concise, I'm excluding chains and "ethnic" foods as I think they aren't exclusive to Baltimore and vegan options are often available by default, or vegans are used to navigating the grey areas in Italian, Mexican, Indian, Ethiopian, and so on, cuisine. But if you're a transitioning or new vegan and need suggestions or help with any specific cuisine, leave a comment and I'll be happy to help! I'm also not including restaurants that have one option – I find that we don't generally seek out places like that as opposed to patronizing them when dining with a group of non-vegans and looking for a place that accommodates everyone. This list is more of places where it's clear vegans were thought of when curating the menu, or as much of a vegan experience as we can get in a city with very few all vegan places to choose from.
I've struggled and procrastinated writing this because I just wasn't sure I can do it and come from a place of complete appreciation. I like promoting others, especially those making progress and promoting veganism but the truth is, I've had some pretty bad service issues at many of the places mentioned and the quality of the food has been so hit or miss that I'm hesitant to put my unwavering stamp of approval on any of them. Repeat customer service issues aren't acceptable with any cuisine but I think as vegans it's okay to expect more from food quality and options in 2016. My perspective and experience is not going to be the same as the next person's but I'm going to do this in a pro/con fashion. In any case, I'm happy that I do have somewhere to go and recommend for those passing through town.
(last updated 3/2016 – Google map of locations at the end)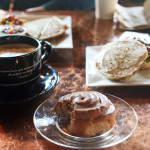 Red Emma's – (mostly vegan) Pros: A collectively owned bookstore and vegetarian cafe, this is probably the place I recommend the most because vegans aren't an afterthought and they care about all social justice issues. Everyone is welcome. Dairy is available but almost everything is vegan by default. They offer breakfast items with more breakfast options on the weekends. They have lunch, dinner, beer, wine, full coffee bar, and baked goods. I enjoy their muffins, banh mi sandwich (or salad), and the mac & cheese. Don't forget to check their specials board, their great selection of books (including vegan cook books), and list of events.
Cons: I've experienced some meh service issues and have given up on their breakfast sandwich as it typically arrives seemingly not warmed so I opt for something else (waffles, yum!). I go here the most so that definitely increases the chances of a mediocre experience. But with the majority of default vegan options, I'm not exactly sure why they even offer dairy. I keep hoping they include victims of the dairy industry in their causes.
Joe Squared – (omni) Pros: Across from Red Emma's is Joe's Squared which you can find a vegan pizza on their menu, or substitute vegan cheese for any of them, a variety of vegan risotto's, plus default vegan items like french fries. I really enjoy the risotto.
Cons: I don't recommend attempting to go cheeseless with their pizza, go for the vegan cheese or something other than pizza.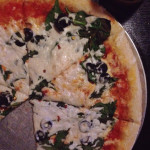 Johnny Rad's – (omni) Pros: A skateboard culture-inspired bar (kids welcome at tables) with skeeball in the back, my favorite place to go for vegan pizza. They also offer vegan meat options and I couldn't believe I waited so long to try their vegan sausage. I don't get a pizza without it now. Their vegan cheesteak is also popular, they have a donut-like dessert, and I heard their vegan brunch options are great too but have yet to experience them. Check their specials, they will often have a vegan option there as well.
Cons: Parking. It could be worth it if you tough it out but be prepared to circle for a bit. It can get also get busy at peak times with a wait.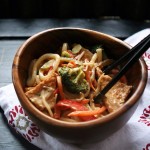 Sticky Rice – (omni) Pros: We really enjoy Sticky Rice, it's in the same part of town as Rad's. Many vegan sushi options and noodle bowls like the Dirty Vegan, appetizers, and I really like their simple Thai Basil summer rolls. They also have a vegan ice cream and cookie dessert.
Cons: I don't have much of a con, aside from wishing the Dirty Vegan bowl had a bit more sauce and occasionally typically-Baltimore service issues.
Liquid Earth – (vegetarian) Pros: A couple doors down from Sticky Rice is Liquid Earth, who was was one of the original vegan-friendly places in Baltimore. They have raw tacos and smoothies I really enjoy, big sub-style sandwiches, juices, and more.
Cons: Service can slow because they don't have a full kitchen and hours are not super reliable.
One World Cafe – (vegetarian??) Pros: This was probably the place I frequented the most when I first went vegan, especially for breakfast. I still really enjoy their chili and can put away some of their pancakes, my son loves the nachos, and my husband loves their tofu scramble.
Cons: An upcharge for soy milk in a vegetarian place? Not cool. I also feel compelled to mention everyone I know complains about their service and despite being called a vegetarian restaurant, they have fish on the menu and we all know fish aren't plants. I also heard through the grapevine their fries aren't vegan which is a major faux pas in a vegetarian place, so definitely triple check that. If you can get past that, you will probably find enough vegan options to satisfy your hunger but having had similar food on the menu for the last many years, I think there's a lot of room for them to step into the present with veganism.
Golden West – (omni) Pros: A dedicated vegan menu with french toast and breakfast burritos, riblet sandwiches, tacos, and more. We always leave stuffed and satisfied. You can also choose from slices of vegan cakes for dessert. They've also implemented their own occasional "Vegan Week" with more vegan options – catch the next one if you can, but the specials go quick!
Cons: Service can be hit or miss and do me a favor and leave a comment card requesting them to take down the taxidermy heads on the wall. We get it, their kitschy but isn't big game hunting a bit barbaric for everyone these days?
Harmony Bakery – (mostly vegan) Pros: A popular staple at the weekly farmer's market, they took their offerings to a permanent location in Hampden. Harmony is a gluten-free and *mostly* vegan bakery. Many items are made without refined sugars and a little healthier than a traditional bakery. They do offer some savory items like their spinach or mushroom tarts which my son loves.
Cons: Some of their items are hit or miss for me, tasting obviously gluten-free while others are really good and it isn't always consistent. It's just about all vegan except for an item with Feta cheese which, I can't imagine that 1% non-vegan option will make or break business but it's just enough to keep them from being a cruelty-free establishment.
Dangerously Delicious Pies (omni) Pros: The pie shop originally founded by Glenmont Popes front man Rodney Henry and featured on The Food Network, I recently learned this local spot offers both sweet and savory pies with vegan offerings in both. I've not yet been as a vegan but you don't need to tell me twice with vegan sweet pies.
Cons: I've had service issues in the past but this was when it was under different management and I was not yet vegan. This is a new location and probably new staff so I'll update after experiencing.
Toss Pizza – (omni) Pros: It's not on their menu but Toss pizza offers vegan cheese, just maybe call to confirm ahead of time that they have it stocked. Their pizza is good and with the vegan cheese, you might be able to veganize a calzone. Check out and see what is playing at the Senator movie theater while you're there.
Cons: I'd feel better if vegan cheese was an official option on their menu and like to see more vegan options.
Flight – (omni) Pros: Across from Toss is Flight, I've heard good things but haven't yet made it there. They have a small vegan selection listed on their menu of hearty dishes such as vegan wings, ribs, and more.
Cons: Will update after I experience it but the exterior doesn't look really inviting although can't judge a book by it's cover, right?
Egyptian Pizza – (omni) Pros: In the same vicinity as Toss and Flight, across from Belvedere Market is Egyptian Pizza. They offer vegan cheese, have really good hummus, lentil soup, as well as some other traditionally vegan Mediterranean appetizers.
Cons: Although there are vegan options, I don't always feel completely confident our server knows what vegan is but as long as you do, you should be fine.
Belvedere Market – (omni) I've written about the few vegan options in Belvedere Market such ramen and a delicious chocolate shop. Unless you want a smoothie for breakfast, I recommend reserving this place for a light lunch or dinner. You can read more here.
Mt. Vernon Market Place – (omni) Another indoor casual Market Place with various food retailers, you'll find a handful of vegan options here such as a vegan dumpling from Pinch (check their specials for a seasonal additional vegan offering), Design your own Bibimpap from Brown Rice with vegan kimchi, tofu, and veggies, Micha's Sorbet, Falafel burger and possibly a soup from The Big Bean Theory and smoothies and juices. Several new places are listed since I've last been so I'll update with additional vegan friendly places. When it first opened, I talked with several places without vegan options and they showed an interest in trying to add some to their menus, time will tell!
Cons: Fairly new, still growing, and getting settled. You'll be exposed to very visible oysters and charcuterie, but probably not any worse than other omni places.
THE LAND OF KUSH – (vegan!) One of Baltimore's only all vegan restaurants! Featuring vegan soul food, worth going for a comforting meal like vegan ribs, curry chicken but also something lighter like their live kale salad and wraps. On the weekend you can find additional offerings such as vegan drummies and crabcakes. They also have premade vegan desserts on hand.
Cons: Ambiance, disposable dishes and utensils, and I haven't felt particularly welcomed – no service with a smile, but this is just something I've grown to expect here. Their mac and cheese is not my favorite.
Two Boots Pizza – (omni) We have no shortage of vegan pizza options around here and while Two Boots isn't exclusive to Baltimore, it's a relatively small east coast chain with one Baltimore location. I've not yet gone as a vegan but it's a very family-friendly, casual place with two vegan pizza options on the menu, "V is for Vegan" and "Vegan in Furs" including their vegan pesto, and the ability to build your own pie. Sounds like a win!
Cons: I'll update after experiencing, I haven't heard anything negative.
Sweet Sin / Sweet 27 – (omni) Sweet 27 has a gluten-free fusion menu with vegan options such as tofu wings, Indian tostadas, I believe all of their sides are vegan, and I enjoy their chickpea tacos. They are attached to their gluten-free bakery, Sweet Sin, which always has a GF vegan cupcake or cookie, usually both, available.
Cons: Again, sometimes their baked goods are very obviously gluten-free in taste but that's coming from someone who eats gluten on the regular.
Grind House Juice Bar – (vegan!) as you can guess, they offer fresh pressed juices and smoothies but also wraps, salads, and some hot foods like vegan ribs. I don't typically get excited over a hummus wrap but remember really enjoying theirs but they have many other options besides hummus.
Cons: It's another place that you do not go to for the ambiance. I've heard they downsized a little, but I have not confirmed or know in what way.
Encantada – (omni) Pros: One of our newer places located above the American Visionary Art Museum. I've yet to go because their lunch menu looks more my speed but I never seem to remember that until it's dinner time. I recently found out what is shown online is just a sample menu because their food is seasonal, so summer will provide us with more options. I've heard good things.
Cons: Be prepared for things like "duck fat" on the menu along with your unique vegan options like deviled "eggs" (turnips). Part of my hesitation for going is they originally came onto the scene as Baltimore's first big innovative plant-based experience and seemed to have change their tune with the addition of many meat products to appeal to a larger audience. That reversal is never good for attracting vegans and it just feels more of the same with the "humane" cruelty and faux-sustainability.
Great Sage – (vegan!) Pros: Another all vegan restaurant but it's outside of Baltimore. It's a bit of a drive but if you have the time, it's worth it. It feels like a true vegan experience. It is a little pricier and less casual than the most of the Baltimore options so it makes a nice place to go for a special occasion, however, it's great for just a regular day too. We find that we enjoy their appetizers and desserts the most, so we often order several of those and leave happy and satisfied but there is still a lot I would like to try. They have a nice outdoor patio too. If you need groceries, they are next door to a very vegan friendly grocer called Roots.
Cons: Mainly the drive and that it's outside of Baltimore and requires advanced planning in my life but others may find it easier to work into their schedules. Otherwise, we would frequent there much more often.
If someone was just visiting for a day and I wanted to recommend my favorites to give them a good feel of what I enjoy in Baltimore, I'd say Red Emma's, Johnny Rad's, Sticky Rice, and Golden West so you can hit some local shops in Hampden. Oh, and Great Sage if you can get outside of the city.
Honorable Mentions for having vegan options – even though I said I wasn't going to include places with one option, I wanted to mention these for having vegan options in a traditionally very un-vegan place. I've yet to try them because I tend to support more vegan-friendly places but just in case you're caught with a group of rabid carnists:
Blue Pit BBQ & Whiskey Bar – (omni) A vegan doesn't often wander into a BBQ joint so it's nice that should you find yourself in the doorway of Blue Pit, you could get yourself a BBQ pulled jackfruit sandwich. But I think that is it for vegan options, even their collard greens aren't vegan-friendly.
Snake Hill – (omni) From the owners of Johnny Rad's with the good vegan pizza, comes this sausage sandwich shop with not just one, but 3 vegan sandwich options. From the flavors listed, I've concluded they are probably using Field Roast sausages which I really enjoy, although something I typically have in my refrigerator at home. You can also get fries and salad with a vegan creamy Italian dressing.
This list is in no way exhaustive – these are just places that tend to get my attention. I've not included places where my experience was not good enough to return. Please feel free to add your recommendations in the comments below.