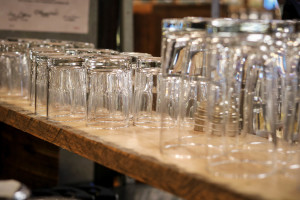 I recently wrote about my feelings on Baltimore, sometimes I like to play tourist in my hometown and other times I just try to cope with existing here. I have my regular spots that greet me on weekend mornings with a big cozy latte or afternoon destinations for mother & son dates. I know exactly where to go for reliable vegan food and can predict just what their ambiance will provide. But when I want to feel like I'm no longer in Baltimore, I take the short drive to Belvedere Square
.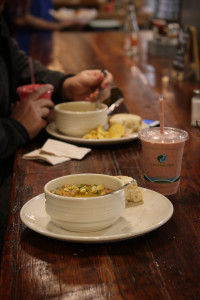 While not being most vegan-friendly environment, this indoor market is still one of the few places I can go when I'm craving more nourishing sustenance and a tourist-like vibe. I can always count on Atwater's Bakery to have a vegan soup on hand made with fresh ingredients – just be sure to specify the side of bread accompanying your steamy bowl is vegan. It should go without saying when ordering a clearly indicated vegan soup, but unfortunately the specification is still required. Their constant supply of vegan brownies are always calling my name but I stare at them longingly for a minute before selecting a fresh pressed juice or smoothie from Plant Bar.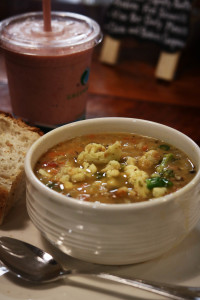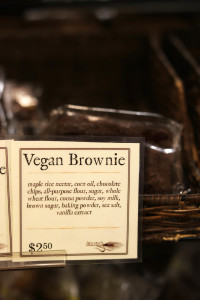 The variety of vendors makes this a great place to take my family when our taste buds are out of sync. While I often crave vegetable-laden soups and smoothies, my son opts for the vegan ramen from Ejji. The puffed pillows of fried tofu, bamboo shoots, and enoki mushrooms atop his rice noodles are more his speed. Sometimes I'll join him in the noodle bowl feast and we wash it all down while at the communal seating with a fresh batch of Kombucha from Hex Ferments.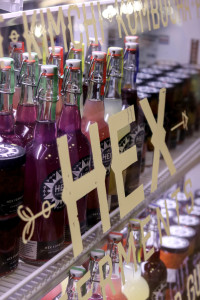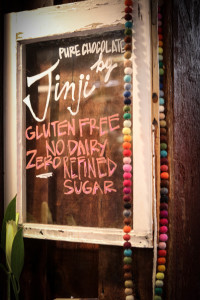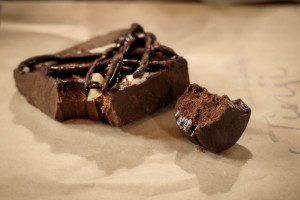 If I'm feeling particularly indulgent or weak-willed, I don't leave without a careful selection from Jinji – raw and refined sugar free chocolates that are to die for. Although Jinji is often listed as vegan chocolate, keep your eye out for honey but grab their "marshmallow" if you see it. As we sat there last night finishing up our soup, smoothies, and chocolate, I tried to pinpoint why being at Belvedere Market makes me feel like I'm no longer in Baltimore. The crowd is predominately white at this particular time and favors the yuppie spectrum, two characteristics I don't feel particularly feel at home around although at first glance probably ones I fit most squarely into. Maybe that is why I feel transported to another place since it's different from other places I generally frequent so I feel more like a visitor than a local. It could also be that the general mood in the air is one of an unhurried pace, not many people taking up outlets for 8 hour stretches like some of the local coffee shops and cafes, just a variety of people of all ages, enjoying food and company as if no other tasks were on the agenda for the day, recreating the slowness that takes over us while vacationing. Which is exactly why we were there.