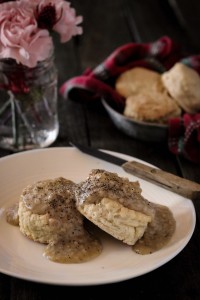 I've always been a sweets-for-breakfast person, which I blame being raised on chocolate cake and brownies for breakfast or the sugariest cereals that only passed for cereal based on their location in the grocery store. I recall, very clearly, going through an ice cream cone for breakfast phase in 5th grade. I only remember time frames by what house we lived in at the time, so it was definitely before 6th grade when I would stuff a cake cone to the brim and then continue to overflow it with chocolate ice cream. I was very strategic in my eating so I would carefully suck out all of the ice cream leaving the cone intact just so I could restuff it with more ice cream as my mom sat at the table beside me, unfazed, reading the newspaper. Can you tell I was the youngest of four? I'm not exactly sure what my sisters ate but it was pretty clear that my mom's motivation to raise healthy kids was gone with yesterday's paper. Now in my late (very late) 30's, I'm trying to undo years of sugar addiction but I still wake up craving something sweet over savory every morning. I occasionally even re-create my ice cream breakfasts but instead of stolen cow's milk and insane amounts of refined sugars, I use whole fruits and nuts – the magic of plants!
Bryan, on the other hand, is a savory breakfast guy – opposites really do attract. Before our diet transitioned to one of compassion, we would venture out for brunch like clockwork. Some kind of sugar-coma inducing stuffed french toast for me and biscuits and gravy for him. I would just shake my head at such a choice for breakfast, who doesn't want something involving syrup?? But it always seemed to bring him much joy and satisfaction. Since going vegan, I've recreated many forms of pancakes and sweet breakfasts but I was long overdo for trying my hand at his old favorite. We hosted our parents for Valentine's Day brunch and I thought everyone would really enjoy a good plate of biscuits and gravy but having never really eaten biscuits myself, I wasn't entirely sure how to make them. I remember several friends recommending The Best Damn Vegan Biscuit recipe by Minimalist Baker. I was a bit nervous not doing a trial run before serving it for brunch – I have irrational anxiety over working with dough. I think because recipes involving it always have a sense of urgency and paranoia to them. Don't handle the dough to much! Make sure your butter is really cold! Be careful not to overmix! Work quickly! I go in with an elevated heart rate as if I'm diffusing a bomb, instead of kneading (not too much!) dough. But this recipe proved all my anxieties were for naught. They came together quite easily and came out of the oven quite perfectly. Both batches. Everything a biscuit should be, according to the more experienced biscuit eaters.
My husband wanted a really traditional breakfast sausage gravy to go with them so we topped ours with our own simple gravy . We had the breakfast sausage patties by Gardein on hand, which I usually reserve for emergency meals or serving non-vegan guests not accustomed to eating whole foods, warmed them up and threw them into the food processor for a few pulses to break them down into crumbles. We added them to a mix of flour, rice milk, oil since there really isn't any coming from the sausage but you can omit, corn starch slurry to thicken a little because we were pressed for time, and salt and pepper. The result was excellent, the sausage really flavored the gravy well and the biscuits and gravy were a popular brunch choice for everyone. I even enjoyed them, after my pancakes, of course. And now I'm motivated to try my hand at my own breakfast sausage.