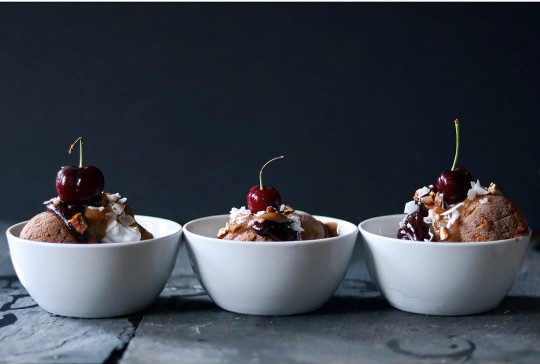 Sunday's family breakfast sundaes – chocolate nicecream with whipped topping, chocolate sauce, salted caramel sauce, chopped nuts, shredded coconut, and a cherry on top. Everything was made from nothing but fruit and nuts, and refined sugar-free. A touch of maple syrup in the chocolate sauce is as nefarious as it got and no animals were harmed. I'm not trying to hear that "I need dairy" talk.
Are you familiar with the infamous banana "nicecream"? All you do is freeze sliced bananas and once frozen, throw them into a food processor and process until it resembles the texture of soft serve ice cream. It really is that easy and magical. I added in cacao powder and you can add in a little non-dairy milk if it needs help moving along, or peanut butter, mint, vanilla, frozen berries or whatever flavor combo you want! How's that for easy and healthy ice cream?
The chocolate sauce is a combination of coconut oil, cacao powder, and maple syrup while the whipped topping is just the solidified part scooped off the top of a can of full-fat coconut milk refrigerated overnight and then whipped vigorously until light and fluffy. Medjool dates can be processed with a touch of hot water or non-dairy milk and a touch of vanilla for a caramel sauce. It's amazing what plant foods can do!