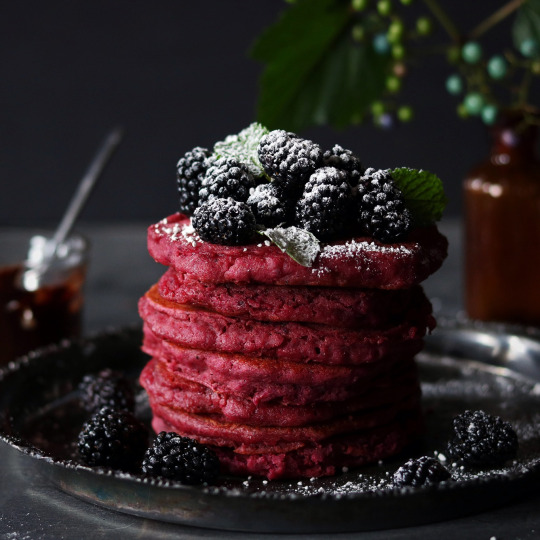 This was my second year having anything worth calling a garden, but still being the novice and poor planner that I am, we got off to a late start. Add in an unexpected "harvesting" of my first seedlings by some curious paws, I almost threw in the towel. Instead I casually tossed in a few beet seeds in the now barren garden and hoped for the best. I was so pleasantly surprised when the greens began to not only sprout but looked quite impressive. I waited until the beetroot began to surface and I excitedly harvested my first beets ever. Because the greens looked so good, I expecting to pull beets large enough to feed my entire family and was a little disappointed that I ended up with two of the smallest beets I've ever seen. One was about the size of a 25 cent gumball and the other a golf ball. Nonetheless, I was pretty proud I got anything at all and it was just enough to make the prettiest pancakes I've ever had the pleasure of eating.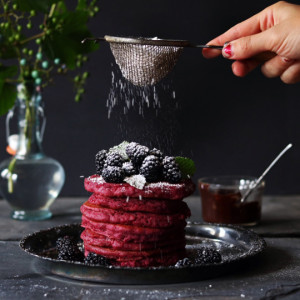 All that to say, I don't have an exact beet measurement to provide but any small to medium beet should work. You want the beet and milk mixture to equal close to a cup so adjust the milk based on the beet puree. But if you find your batter is still a little liquidy, you can add in a pinch of flour at a time until it seems right. I know some recipes call for roasted beets but if I'm being honest, there is no way I'm going to roast a beet for a half an hour, then shred, then puree to make pancakes. It was raw or nothing for me and I thought they turned out excellent but if I find myself with left over roasted beets on hand one day, I may see how that changes the flavor. The cardamom is completely optional but strongly encouraged. I think that's what made these so delightful, it was subtle but such a unique flavor and pairs extremely well with cinnamon. You can start with half the amount if you're unsure but I don't think you'll regret it and may even want to bump it up to a full tablespoon.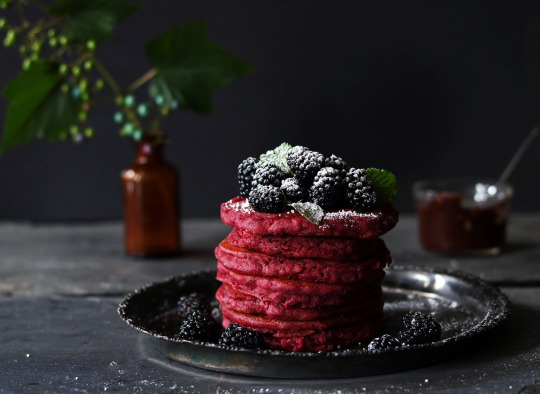 Whole Grain Beetroot + Cardamom Pancakes
2016-02-07 17:48:01
Ingredients
1 ½ cups whole wheat flour
3 ½ teaspoons baking soda
1 teaspoon salt
1 tablespoon coconut palm sugar (or vegan certified sugar)
1 teaspoon ground cardamom
1 teaspoon cinnamon, optional
1 small beetroot, shredded
¾ cup unsweetened, unflavored non-dairy milk, I used rice milk
2 teaspoons raw apple cider vinegar
1 tablespoon ground flax seed
½ cup water
3 tablespoons organic, unrefined coconut oil, melted
½ teaspoon vanilla extract
Toppings of choice such as maple syrup, fresh berries, or coconut whip
Instructions
1. In a large bowl, sift together flour, baking soda, salt, sugar, cardamom, and cinnamon. Make a well in dry ingredients
2. Add the shredded beets to a high power blender with just enough of the milk to make a smooth puree with no chunks of beet left. Add in the rest of the milk and blend until mixed.
3. Pour beet milk into a small bowl and whisk together with vinegar and flax seed for about a minute, until frothy
4. Pour the milk mixture into the well of the dry ingredients, add the water, oil, and vanilla. Mix by hand with a fork until all ingredients are mixed, lumps are okay, be mindful not to over-mix.
5. Set batter aside for a few minutes to rest, this gives the ingredients time to activate.
6. Preheat a stainless steel skillet or seasoned cast iron on medium heat and lower to low once hot. Melt a little coconut oil on the skillet if using stainless and quickly drop the batter onto skillet using ¼ cup scoop.
7. When the edges are beginning to look firm and the top has a couple bubbles, flip the pancakes and cook for a few minutes until cooked through.
8. Add a little more oil in between each round of pancakes added to the pan, but keep the heat on low so the oil doesn't start to burn the pancakes. Keep warm until ready to serve.
Adapted from Isa Does It
Cara Schrock http://caraschrock.com/