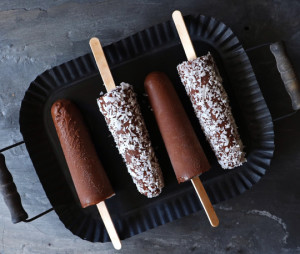 We've been hooked since my first batch of veganized fudge pops but I just don't like the way refined sugar effects me and the thought of giving it to my son with any regularity, just doesn't sit right. I want to indulge but not hate myself afterwards and I like having treats in the house I don't have to say no to. So, a healthier version of the original decadent fudge pop recipe (that can be found here) was born.
We all felt this recipe was still just as fudgey and yummy as the original and, to me, these are even easier to make with just a couple tweaks which eliminated the refined sugar, except for whatever is used in the creamer, and replaced it with a whole food to naturally sweeten while leaving the beneficial fiber in tact. I know we can always make our own creamy nut milk to use in place of the store bought cream but for the sake of costs and convenience, I felt this was a good middle ground. You can always try a can of full-fat coconut milk, that will be my next step.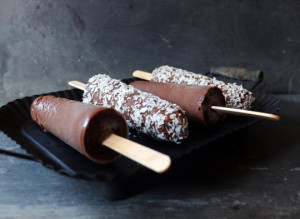 VEGAN FUDGE POPS - Dairy-free, Gluten-free
2016-02-07 16:18:26
Ingredients
5 medjool dates, pitted (soaked in hot water for 10 minutes if really firm)
3 tablespoons of raw cacao or unsweetened cocoa powder
1 ¼ cups of dairy-free creamer, I used Silk Soy Creamer
1 tablespoon of cornstarch
Pinch of salt
½ teaspoon of vanilla extract
1 tablespoon of melted coconut oil
Instructions
1. In a high-powered blender, combine the dates, cacao, and creamer. Blend until smooth and no bits of dates remain.
2. Pour the mixture into a medium pot over low heat. Stir in the cornstarch and salt
Increase heat to medium and while stirring frequently, cook until the mixture begins to thicken, about 5-10 minutes.
3. Once slightly thickened, remove from heat and add the vanilla and coconut oil, stir until combined.
4. Cool for a few minutes and then pour into popsicle molds. If using your own wooden sticks instead of the mold handles, let freeze for about 30 minutes before inserting the wooden sticks to prevent the sticks from floating or falling to the side.
5. Freeze fully before serving, about 2 hours or overnight. Run under luke warm water for a minute to loosen from the molds and enjoy!
Notes
You can let them soften for about 30 seconds and roll them into a finely chopped topping of your choice like coconut, as shown, chopped nuts, or cookie crumbs. But the simple classic naked version is a family favorite here.
Cara Schrock http://caraschrock.com/