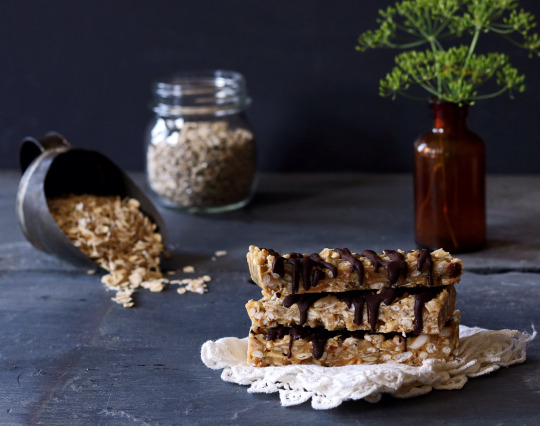 It's that time of year when school is about to be back in session and I've portable snacks on the brain. Finding balanced snacks for kids is one of my biggest challenges. Most of the "healthy" snacks still contain refined sugar, even the homemade ones, and we get so much sugar outside of the house, I hate including it in lunch boxes too. So these bars are slightly sweetened with organic brown rice syrup and topped with a chocolate sauce sweetened with maple syrup. That's called my parental compromise. But the granola bars are good without the chocolate so you can cut down the sugar content even more or mix in vegan chocolate chips if you live on the wild side. They are protein loaded between the peanut butter, chia, and hemp seeds, but also "healthy fat" heavy so a little goes a long way. I cut the bars, as shown, in half for a serving. I'm not even going to pretend I know what is the healthy and balanced ratio of protein/fat/carbs for everyone but I thought I'd point that out in case protein and fat is something you need to keep in mind. All I know is that they are cruelty-free, eat them and nobody gets hurt especially since it keeps the hangries away.
Alas, after all this, in my Summer Brain Haze, I didn't initially think about the fact these bars need to be refrigerated and will get quite messy in a lunch box sitting in a cubby. So lets call them breakfast bars or after school snacks and make it all better.
Chocolate Covered Granola Bars - Vegan, Gluten-Free, Refined Sugar-Free, and Nut-Free option
2016-02-07 17:30:19
For the Bars
1 cup peanut butter - or nut butter of choice, Sunbutter for a nut free version
2/3 cup brown rice syrup
½ cup coconut oil
1 cup brown rice crisp cereal
1 cup rolled oats, certified gluten-free if gluten is a concern
2 total cups, in any combination, of coconut flakes, sunflower seeds, pumpkin seeds, chia seeds, hemp seeds (or your own combination of nuts, seeds, and dried fruit)
Chocolate Drizzle
½ cup coconut oil
¾ cup raw cacao
¼ cup maple syrup
1 teaspoon mesquite powder, optional for added sweetness
¼ teaspoon vanilla powder (or ½ teaspoon extract)
Instructions
1. To make the granola bars, in medium size sauce pan, melt together peanut butter, rice syrup, and coconut oil.
2. Remove from heat and add rice cereal, oats, seed, nut, and dried fruit mixture
Stir until well combined
3. Press mixture into 12″ x 8″ baking sheet lined with parchment paper hanging over the sides
4. Freeze for 30 minutes and remove bars from pan by lifting parchment paper and flipping onto a cutting board
5. Cut into bars and prepare the chocolate drizzle by mixing all of the chocolate sauce ingredients in a bowl and stirring until well combined.
6. Using a spoon, drizzle chocolate over the bars or alternatively, dip the bars in the chocolate sauce
7. Refrigerate for a couple minutes, if needed, until chocolate is solidified and enjoy!
Notes
Keep stored in an airtight container in the refrigerator or freezer.
Cara Schrock http://caraschrock.com/