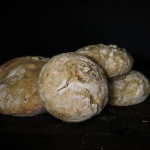 So I made bread for the first time. While this may not be impressive to some, I'm slowly getting over my fear of flour and water. Don't ask, I can't really explain it, but it's real. When I saw this recipe on my Facebook feed for Always Autumn's Homemade Artisan Bread "Easiest Bread Recipe Ever!" that requires no kneading, basically no effort at all, I thought I could even manage that. I followed the steps exactly, and although I had trouble getting my dough to form into a nice ball and stay as opposed to spreading back out into a blob before I eventually just plopped it into the crock, it still turned out wonderfully. I'll definitely be repeating this recipe and hopefully I'll refine the look but for my first time, I didn't mind the extra, uh, rustic appearance.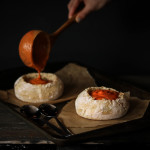 For the larger loaf I used the crock of my large slow-cooker. Then I made another batch of the dough into one bowl with the addition of dried thyme, and after it sat at room temperature for 20 hours, I divided it into thirds and used the crock of my mini 4 cup crock pot, baking it in three batches, which made the perfect size for personal bread bowls to fill with the Cream of Tomato Soup from the Oh She Glows Cookbook. Such a treat.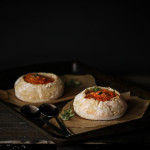 Both recipes are easy enough that even a novice in the kitchen can do but do require some pre-planning. You'll end up with a comforting, homemade meal that will taste like you spent hours of manual labor in the kitchen but nobody needs to know just how easy it came together. I served ours with fresh oregano and homemade vegan parm. Go on, impress your guests – or just yourself.