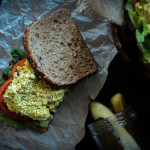 For whatever reason, egg salad brings back fond childhood memories. I distinctly remember my mom packing up a picnic lunch of egg salad sandwiches on that glorious, cheap, soft white bread, and taking me to the zoo. We would eat it outside of the zoo gates, my young mind thought it was to make the event more special but as I got older, I realized it was to save money from buying that overpriced garbage food they would sell inside. Either way, I was a happy kid. Naturally, eating eggs on a zoo outing is about as un-vegan as you can get so that's not gonna happen anymore. But veganism isn't about giving up all that we know and love. It's about making adjustments to continue traditions and family favorites and doing them in a less harmful way. So instead of taking my own family to the zoo, we pack a picnic lunch to go on hikes or the beach and hope for wildlife sightings in their natural habitat. Instead of egg salad sandwiches (on cheap white bread) we have a tofu-based egg(less) salad sandwiches on not-soft, whole grain bread (but do enjoy the white bread, if you desire, I'll live vicariously through you).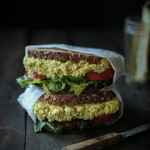 This is such an easy thing to throw together. The main work is in pressing, or draining the liquid from the tofu. If you have a tofu press, like this one we got from Amazon, you can have the tofu pressing while you gather up the rest of your ingredients. Other than that, all you need is a fork and a bowl – maybe a couple measuring spoons but once you do it a couple times, you can easily eyeball everything. If you don't have a tofu press, you can still wrap the block of tofu in towels and stack a bunch of books on top of it to press, or if you're a simple person like my husband, just squeeze the shit out of the tofu block over the sink with your clean hands.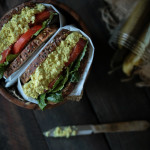 What makes this really mimic egg salad is a key ingredient: Kala Namak, also known as black salt.. Black salt has that sulfurous aroma that is usually associated with hard-boiled eggs. We loving refer to it as Bag of Farts. In fact, when I was I was making the latest batch of egg(less) salad, my son ran downstairs and happily exclaimed "It smells like farts, are you making egg(less) salad?!" Life with tweens – and immature 40 year old women, apparently. You can find Black Salt at Indian markets or on Amazon. I don't like having to buy pricey ingredients that only work for one or two recipes but I've had my bag of black salt forever and it works for anything that an egg-y flavor is desired like tofu scrambles, chickpea omelets, deviled potatoes, making your own vegan mayo, Indian cuisine, and egg(less) salad! It's a good investment. But, you can substitute regular salt, just start off with less and adjust as needed.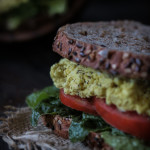 I double the batch of this so the three of us can get a few lunches out of it, but I find the family snacking on it with crackers, by the spoonful, or eating it for breakfast as well. It's a protein-rich sandwich option and combined with a whole grain bread, it keeps me satisfied. You can probably cut down on the mayo if the fat content is a concern for you. Maybe increase the mustard, or use mashed avocado instead, splash of water, or aquafaba? I'm kind of just guessing here, I haven't tried any of those because with all of my other healthy hacks, I let this one slide and I'm just happy everyone really enjoys it. Mix in whatever else you would like, dill, green onions, pickles maybe, celery for crunch or red bell peppers. We're pretty basic here and prefer to leave it as is. A few times I made the infamous rice paper bacon and threw some of that on there with enjoyable results. Whatever you do, pack it up and enjoy it anywhere, just not at the zoo, mkay?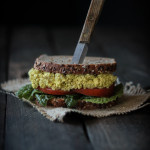 Egg(less) Salad
2017-02-14 09:49:29
Serves 4
A vegan take on a traditional egg salad using tofu as the base. It's high in protein but with less fat and cholesterol than the animal-based version and just as delicious! Works great for picnic lunches and snacking with crackers.
Ingredients
1-14 ounce block of extra-firm tofu, drained and pressed
4 tablespoons vegan mayo
2 teaspoons mustard
1/2 to 1 teaspoon black salt (Kala namak - can sub regular salt, start off with less, adjust as needed)
1/8 teaspoon turmeric (optional, for color)
black pepper to taste
Instructions
1. Crumble the pressed tofu with your hands into a bowl.
2. Add in the remaining ingredients and stir with a fork until well incorporated.
3. Adjust to taste, adding in extra mayo, salt, or pepper as desired. More turmeric will increase the yellow color.
4. Serve immediately on bread or crackers, or refrigerate for up to 5 days.
Cara Schrock http://caraschrock.com/