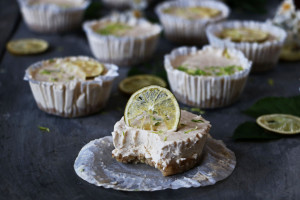 As an avid chocolate lover, I was surprised to learn that Key Lime pie quickly became my new favorite dessert after the first bite. I remember that moment well, it was during a vacation with my then boyfriend turned husband in the Florida Keys. I know, so cliche but it was because of that cliche that I gave their famed key lime pie a try. I was hooked.
This recipe is refined sugar-free, soy-free, gluten-free, and dairy-free – of course. However it is loaded with nuts so if you have a nut allergy, just step away from the recipe, please. It is also not low-fat but it contains a ton of natural, whole food ingredients with lots of fiber. This is a no bake recipe so it's really easy to come together but does require an hour or two to freeze. The candied limes are purely ornamental, I discovered after taking a bite, so they can be omitted but they really do look cute. Just using lime zest will look just as pretty.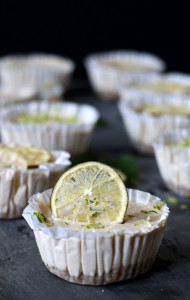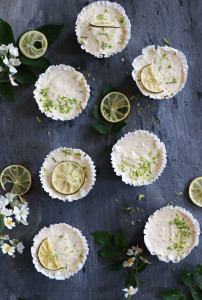 Vegan No-Bake Key Lime Pies - Refined Sugar-Free
2016-02-07 10:01:05
Crust
½ cup almond meal
½ cup pecans (alternatively just use one cup of your favorite nuts in place of pecans and almond meal)
¼ cup shredded coconut
2 tablespoons melted coconut oil
*if you want a sweeter crust, you can throw in a medjool date or substitute 1 tablespoon of maple syrup for coconut oil
Pie Filling
1 cup raw cashews, soaked for 4 hours (or overnight), rinsed and drained
4 medjool dates, pitted
¾ cup full fat coconut milk from the can, the fat separates so make sure to shake well before measuring. Save the left overs for a smoothie.
¼ cup coconut oil, melted
5-6 limes (you'll want ½ cup lime juice and 1-2 tbs of zest, I couldn't find key limes so I used regular)
If using candied lime slices: 1 additional lime, 4 tablespoons of vegan sugar, and 2 cups of water
Prepare the Crust
1. Combine the almond meal and pecans in a food processor and process until finely chopped like a coarse sand
2. Add in the shredded coconut and oil and pulse until well incorporated. You should be able to pinch the mixture together and it will hold it's shape.
3. Line a cupcake tin with 9 liners. Add 1-2 heaping tablespoons to each liner, top each off with any remaining crust mixture and push down with your fingers to form the bottom crust. Set aside
Pie Filling
1. Zest 2 limes and set zest aside.
2. Squeeze the zested and 3 more limes to get ½ cup lime juice.
3. Add lime juice, pre-soaked cashews, dates, coconut milk, and coconut oil to a high-power blender. Blend until very smooth and creamy. Taste and make any necessary adjustments. If it's too tart, add in another date, if it's too sweet, add in more lime juice or a little zest
4. Pour filling into prepared crusts, set aside to make the candied limes if using. If not, sprinkle the pies with lime zest and place level into a freezer to firm up.
Candied Limes
(If using, prepare before freezing pies because you'll want to add before they are fully frozen)
1. Preheat oven to 375
2. Using a mandolin, or by hand, thinly slice the lime. Boil lime slices in 2 cups of water for 5 minutes.
3. Remove lime slices, but save 1 cup of the boiling water. Lay the slices on a paper towel to dry, add in 3-4 tablespoons of sugar to the remaining water, heat and stir until sugar is dissolved.
Remove from heat
4. Soak the lime slices in the sugar water for about 30 seconds and remove and lay on paper towels for a minute before transferring to a baking sheet lined with parchment paper
5. Bake slices for about 20 minutes, flipping once, and keeping your eye on them so they don't turn too brown.
6. Remove from oven to cool and decorate each pie with a slice, ½ of a slice, or a combination of slice and zest. Place pies in freezer to firm.
Notes
These are best stored in the freezer. Just remove 10-15 minutes before serving or enjoy frozen. You can remove the lime slices easily once the pies warm up a little.
*you can substitute ½ cup of maple syrup in place of the medjool dates for the pie filling. i prefer to use whole fruit sugars with their beneficial fiber but a liquid sweetener can work.
Cara Schrock http://caraschrock.com/