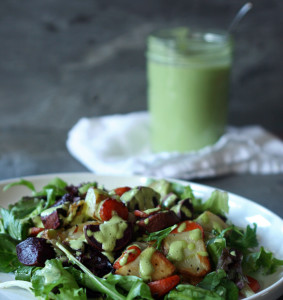 Gardening all day had me craving something light. Roasted Potato salad with oil-free creamy cilantro dressing. | Roasted sweet potatoes, russets, and carrots over an organic spring mix. Simply roast the root veggies at 425 Fahrenheit with a little oil and touch of salt and pepper and until tender and serve with the dressing below. This makes a good salad to layer into a jar for a portable light lunch, place the dressing on the bottom of the jar, layer with veggies, top with greens, and shake when ready to eat!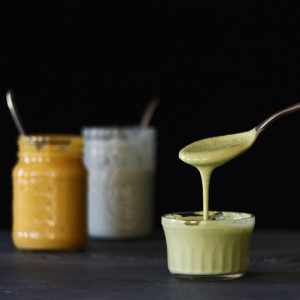 Creamy Vegan Spicy Cilantro Dressing
2016-02-07 07:45:52
Cool and creamy, this dressing works over salads, tacos, or root veggies!
Ingredients
+ ½ cup cashews, pre-soaked
+ ½ cup water
+ 1 date, pitted
+ ½ - 1 cup* fresh cilantro leaves
+ 1 lime (2 TBS juice)
+ ½ - 1 whole seeded jalapeno, depending on your preference for heat
+ 1 tsp onion powder
+ 1 tsp sea salt
Instructions
Throw everything in a blender until smooth. Taste adjust for flavor by adding more cilantro if needed.
Notes
If you like it thinner, add more water, if you need to thicken, add more cashews!
Cara Schrock http://caraschrock.com/