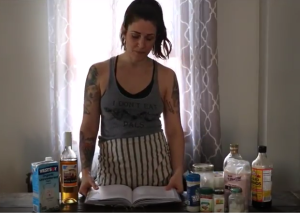 Wednesday's are what I call my make days. When you work a day job and have a family, it's hard to fit in your hobbies and personal interests in a way it doesn't add in unnecessary stress or take away from other obligations and family time. But on Wednesday's I have a few hours to myself every morning – no work at all and no family until noon. As fortunate as I am to have this time to use as an outlet, any creatives understand that it's not always easy to jump when you've been stifling and stock piling inspiration all week for this moment and now have the pressure of a few uninterrupted hours ticking by. It can be hard to even know where to start when you have a list of ideas and now a little bit of time to choose one or two that might work in limited time. Some days I put this time to good use and others it doesn't always jive with my natural female fluid flow where often our inspiration and productivity follows our bodies natural cycle and rhythm. Women operate in a different way but we're often left trying to make the best of the masculine linear world and schedule. However, on my Make Day yesterday I found myself with extra time, not having to worry about school pick up. Still, when just a few days ago I had a never ending list of ideas I couldn't wait to get started on, I found myself struggling to find the motivation to kick off any of them. Knowing I would regret not taking advantage of this time, I grabbed a cookbook from my shelf, one reserved for "when I have the time" and knew time was all I had yesterday. I planned to make a recipe, one recently recommended to me, just to photograph, but as the light hit my dining table just right and the March temperature rose to a life affirming 80 degrees, suddenly I felt my motivation kick in and I wanted to try something new. I decided to film it to share the video with you all.
As I mentioned before, videography and YouTube is just not my forte, not saying it can't be someday, it's just something I never devoted any time to as I felt I was too busy still learning how to cook and take pictures. My list of hobbies has been steadily increasing over the years and I just didn't think I needed one more. But the more I learn about myself, the more I realize that while I like to master something, anything, I also get bored pretty quickly and need the variety to bounce around. I think it was drilled into my head at an early age that if you don't stick with something you're a quitter and you need to focus on one thing in order to succeed. So I used to force myself to stick with something until I couldn't take it anymore and give up feeling like a failure and unmotivated to start something new. I am now finally embracing the fact that I am a creative person and I just don't operate in the way other's want me to. Having many interests doesn't make me a quitter or failure, it keeps me interested and inspired for life. It gives me more skills that sure, I may never master but I enjoy the experience, challenge of learning something new, and best of all, creating something of my own regardless of how well-received it is or not. Photography is still my main passion but my mind has been growing increasingly curious about video. As with any new hobby, I just don't have the resources (or time!) to make it as I want and I find myself in that familiar space of wondering if it's worth investing in the proper equipment in order to be happier with the outcome and therefore stick with it or if it's more of a fleeting and experimental interest that won't really stick no matter how much I invest. I tend to error on the side of not being wasteful or an unnecessary consumer so for now, I'm working with what I have. I definitely would have done and said things differently, like not changing the orientation of my camera! But it's a process and if I wait until the videos are perfect before posting, I'll never share anything. If it continues to be something I enjoy and want to progress with, I'll invest in a mic for sure and editing software, and maybe something to help with lighting. While my house is full of wonderful windows, the lighting has always been a bit bizarre and there just aren't any walls without a window to work with near the kitchen. Inside the actual kitchen is an entirely different hill to climb. But it's always onward and upward!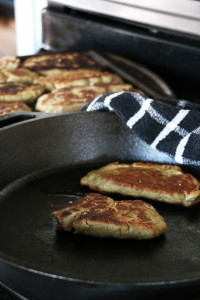 In my first Cook-a-Long, I'm trying The Vegan Pantry's "Breast" of Un-Chicken. I love this book and will often sit with it to just daydream about a slower life in the country side. I think it's worth adding to your collection especially now that I have a go-to recipe from it's collection under my belt. This recipe was recommended so I was confident it would be time worth investing and it didn't seem like it would take entirely too long to come together or be too difficult. I have been wanting to show everyone that you don't need to be a master chef in the kitchen and that recipes aren't as scary as they may seem. I'm fairly new to cooking, considering my age, I used to follow recipes to the "T", felt like substitutions weren't an option, and if any part was unfamiliar to me, I wouldn't even dare give it a try. As I've grown a little more comfortable in the kitchen I've learned that it's just food. It's no big deal, and while some recipes could have an exact science to them, generally there's a lot of flexibility and room for error. It's easy to get hung up on unobtainable perfection but I think the most important things is we get in the kitchen and start cooking and work with what we have! When I first started cooking a couple years ago, I literally chopped every vegetable with the smallest paring knife and tiny cutting board because it's what I had. It was tedious as hell, but I stuck with it and slowly learned what would make the job easier and invested in some equipment. Learning to cook was the best thing I could have done for myself and my family. We learn so much about what (and who) we are putting into our bodies. This is something I wish I took a few minutes to speak on in the video but it's probably best it was left out, it ended up quite long as is!
Speaking of long, this was a very long intro to say I would like to do more of these cook-a-long videos as I try a recipe from my huge collection of cookbooks that I usually use more for inspiration than recipe following, or walk you through some of my own, as a share a bit of my personality. It will be as much about hanging out together as it will be about the recipe. So I hope you enjoy them and as always, I'd love feedback! If we're lucky, and patient, maybe we'll see my videography skills improve! Check out the video below or directly on YouTube here. Please subscribe to my channel, if you're interested, so you can catch any new videos I upload.
<Rated R for language, or maybe it's PG-13 these days, basically, there's an F-bomb or two>