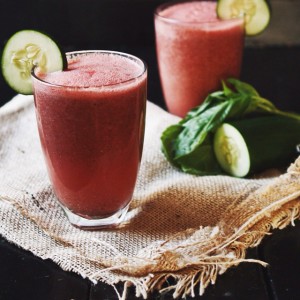 Well isn't this the epitome of Summer and refreshing? Use any leftovers to make into ice cubes!
Watermelon Basil Smoothie
2016-02-09 11:25:44
Ingredients
1 half large cucumber
6 large leaves of basil (+/- depending on your preference for basil flavor)
handful of ice
1 tablespoon chia seeds
3 tablespoon hemp seeds
Instructions
Add all ingredients into a blend and blend until smooth.
Cara Schrock http://caraschrock.com/