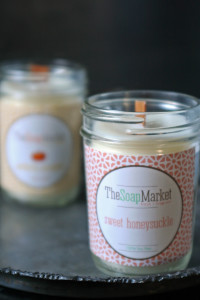 {While this sounds like a sponsored post – this was originally written for another site elsewhere but was never published and why waste all that work when it's a product I really love? The Soap Market's candles are too good not to mention under Brands I love and their body butters are downright dreamy.)
Clean Skin with an Even Cleaner Conscience
What is hidden in conventional bath and beauty products is downright dirty. Often laden with nasty chemicals that we unknowingly slather all over our body's biggest organ, our skin, and made from unnecessary animal byproducts which are then cruelly tested on animals, it's no wonder our hearts skipped a beat for The Soap Market's line of all vegan and cruelty-free skin care. Not only is The Soap Market's complete collection made with compassion for animals in mind, it's also made from plant-based ingredients that are equally loving to our skin and don't require a Phd to decipher.
The Soap Market is the solution to an alarming wake up call, owner, Stephanie Wallingford, received one night several years ago when the paraben and cancer connection made it's way to the nightly news. With a family history of cancer, this was enough to send the former science teacher on a label reading hunt throughout her home. Disturbed by what was found in her family's favorite skin care products, Stephanie recalls:
Not only did everything have some sort of paraben but even the more "safer" preservatives were formaldehyde releasers! What the heck! Preservatives that release formaldehyde!! YUCK! I also discovered how a lot of the materials in bath and body products really serve no purpose, meaning they aren't really contributing any skin nourishing value. Also, let's not forget about the tallow, animal fat! I found that disgusting, like I'm literally rubbing animal fat on my skin and giving it to my family to use! That was enough for me. I decided I'm just going to make my own products and then I'll know exactly what is in it and make it as skin loving and natural as possible.
Now on a mission, Stephanie began creating and perfecting her handcrafted soaps which were quickly coveted by family and friends. Her personal collection grew with new products like lotions and lip tints and soon found their way onto Etsy. After becoming such a sought after brand, The Soap Market needed its very own brick and mortar and Stephanie's children and mother joined her as her full and part-time employees. Soon more products, such as bath salts and body butters, all cruelty-free, took up residence on the store shelves next to the flagship soap products.
The Soap Market's best selling soap bars has struck the delicate balance of a quality utilitarian product and art. They are the practical statement piece every bathroom needs. It's the kind of soap that makes your guests pause for just a moment as they wonder if something so pretty is purely decorative or for actual use. (Go on, use it, we love having an excuse to restock our Soap Market stash.) The vibrant colors, earthy tones, and fresh scents like Raspberry Lemonade, will first catch your eye but your skin will appreciate the creamy and moisturizing coconut milk base. The body butter and lotions are lush and absorbent without leaving your skin greasy and the top selling Rosemary Mint scent is invigorating, great for a little pick-me-up. The lip tints are perfect for someone like me who shies away from lipstick but wants to go a step beyond chapstick. The Merlot lip tint, although appears quite dark in the tube, added a delicate hue and shimmer that kept my makeup looking natural but with just enough eye catching color.
The candles from The Soap Market are my favorite item from the collection and the perfect accoutrement to the pampering and detoxifying bath salts ($12.50). They are some of the most aromatic candles we have had the pleasure of inhaling, not the kind you have to hold right up to your nose to smell but as soon as you remove the lid, you are transported into a field of honeysuckle. The natural woodwick adds an interesting and rustic visual element and the soy wax base keeps the bees undisturbed as nature intended.
We love knowing our purchases from The Soap Market are supporting a vegan-owned and family operated business but more importantly, we feel good knowing it didn't come at the expense of our animal friends and our health. With all of The Soap Market's products free of toxins, animal cruelty, byproducts, and testing, one thing you won't need to wash away is a guilty conscience.