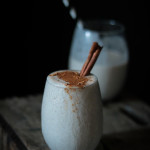 I'm no stranger to n'ice cream, usually a term I reserve for the vegan banana "soft serve" but when I saw the N'ice Cream Book, and that mouthwatering cover, I wanted more. I had put a temporary hold on ordering anymore cookbooks, because honestly I hardly use them. I buy them to support my food blogger and chef friends or pass on to the veg-curious, but I usually am just reluctantly winging it in the kitchen at the last minute, googling something specific, or impulsively making a recipe that just crossed one of my social media feeds. Ice cream though is my weakness. Because of that,I simply do not buy it. I used to eat a half a pint of dairy-laden ice cream a night and nothing good came from that, surprise! And if you've ever had the So Delicious Salted Caramel Cluster Cashew ice cream, well you know addictive properties are not reserved for dairy ice cream. I have no self control around it. But this book! I was curious and knew that it would rely more heavily on whole foods and the fact I was having to make it myself would probably slow me down a little. This is exactly why I don't own an ice cream maker. Anything that makes me eating ice cream easier, should not be trusted.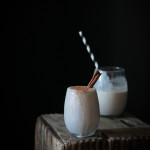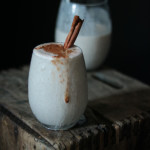 I wish I could provide raving reviews on all the recipes but truthfully, I haven't made many yet! I'm trying so hard to not indulge that often, I did a month of (mostly) fully raw, and if I'm being honest, everything sounds so stinking good that I'm not sure I can maintain moderation around it all this deliciousness. I did make the creamy Blueberry Pie Ice Pops and yesterday, as temps kept climbing, I opened the book for a quick cooling treat. I wanted something instant that didn't need a lot of time to freeze. After a quick flip through, I landed on the Chai Milkshake. A short ingredient list of herbal chai tea, frozen banana, dates, and plant milk…whole foods, blended up in an instant – perfect. There is absolutely no reason why this can't be breakfast. I coincidentally had ONE bag of decaf chai tea laying around. It was a sign, a sign for this to be in my belly. The ingredient list was so simple that I almost wasn't expecting anything too different from smoothies I already make but the chai combo was like, whoa. I added several ice cubes before blending and used a homemade cashew milk instead of store bought, maybe that is key to the mind blowing-ness of it, it definitely motivates me to keep a fresh batch on hand.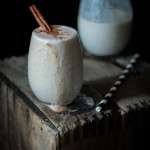 This is not a sponsored post, I don't even know the authors, but if you like ice cream, this is definitely a book to add to your arsenal. Every single recipe has a photo, which is everything to me. The photos are pretty much the only reason why I buy cookbooks. If you do buy it, start on page 146 and sip on that while you peruse the rest of the collection.
Unrelated, these are some of the first photos I've taken in awhile that I actually like. I hit a major creative rut and had no motivation to use anything other than my iPhone for a couple months. It felt good to have the desire to take out the camera and open up Lightroom again. The power of the right lighting hitting your studio just right.