A hearty soup that works well during both the summer when the garden, or local farmer's market, is overflowing with abundance of fresh leafy greens or during the winter to help take the edge off the chill in the air. Fennel seeds give this a rustic Italian feel, full of comfort. Feel free to replace the romaine with your favorite greens and serve with your favorite bread smothered in a garlic rub.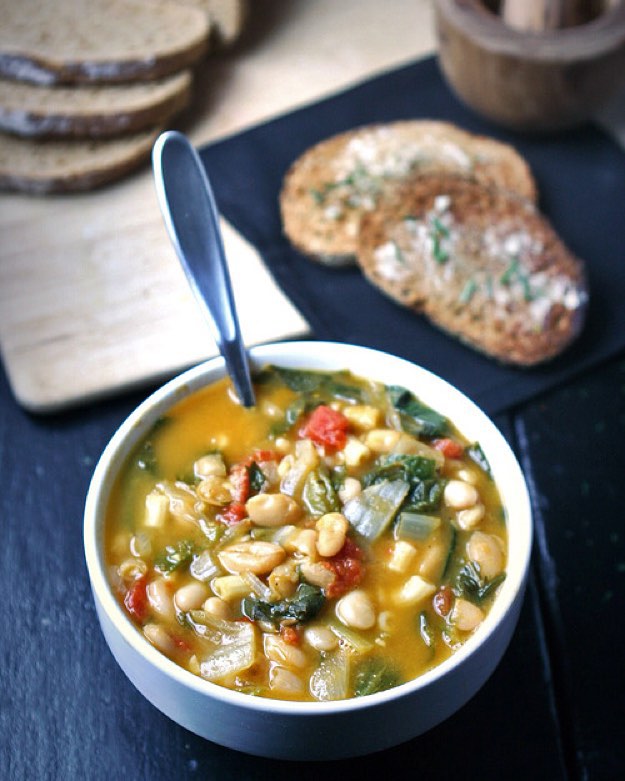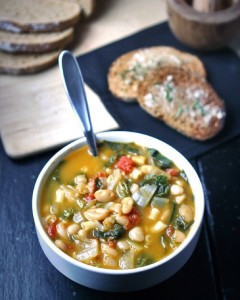 White Bean & Romaine Soup
2016-02-06 17:03:18
Ingredients
4 tbsp Olive Oil
1 med Onion – chopped
3 tsp Garlic – minced
1 tbsp fresh Rosemary, chopped
1 tbsp Fennel seeds, crushed with mortar and pastel or back of spoon
½ tsp Red Pepper Flakes
2 heads Romaine - about 2 lbs – coarsely chopped (can sub Escarole, Endive, Kale, or leafy green of your choice)
2 quarts low-sodium Vegetable broth
4 cans (16 oz) Cannellini (Great Northern) – drained
1 can (16 oz) Diced Tomatoes
½ cup Ditalini pasta (optional)
2 tsp Sea Salt (optional)
1 tsp Black Pepper
Instructions
1. Heat olive oil in heavy bottom pot over medium heat. When oil is hot, add onions to pot and cook until onions start to brown (6 to 8 mins), stirring occasionally to ensure onions do not burn. You can also saute onions in a little water or broth to eliminate the oil.
2. Add the garlic, rosemary, fennel, pepper flakes, salt and pepper. Cook until garlic is tender (2 to 4 mins).
3. Stir in the romaine (or leafy greens) and cook, stirring gently, just until it wilts (2 to 4 mins).
4. Add broth, beans, and tomatoes. Increase heat and bring to a low simmer. Cover and cook for 5 minutes.
5. Add ditalini and bring back to low simmer. Cook until ditalini are al dente and soup slightly thickens (8 to 10 mins).
6. Taste for flavor. Adjust seasonings if necessary.
Cara Schrock http://caraschrock.com/