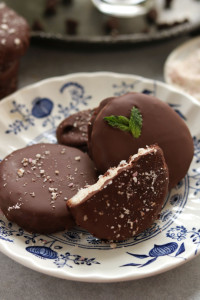 When it comes to peppermint patties, I decided there are two kinds of people in this world – those who prefer an ooey, gooey center and then there's the rest of us. I've just never been crazy about an oozy center in chocolates, like those weird chocolate covered cherries surrounded by that sugary goo, or worse – Cadbury eggs <shudder>. I always dreaded the surprise box of mixed chocolates because you knew eventually you would be happily gorging along until you took a bite into a mystery chocolate that was hollowed out to house a mouthful of sugared, sticky, cream of artificial flavors.
Caramel is the exception. Caramel can do whatever it wants and I'd still bow down at it's sticky feet. But mint? Nah, no mint goo for me, I like my peppermint patties York style – without the cruelty.
I wasn't sure how I wanted to approach my version, initially. Did I want to do a raw treat? How about with a healthy whole-food sweetener like dates? I was already eyeing the vegan candy canes for a topping so effort at making these healthy would be a fruitless attempt.
These peppermint patties are fresh and minty, sweet, and easy. And not remotely healthy so they are very much candy in the most traditional sense of the word. I prefer a strong minty flavor but my husband likes more of a delicate mint taste with his dainty tastebuds, so if you enjoy more mint than not, I'd increase the mint extract by ¼ teaspoon or slowly increase to your liking.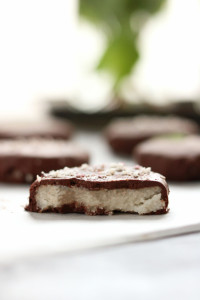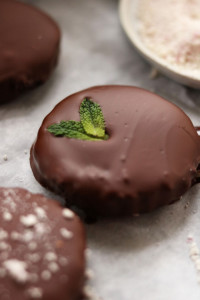 Vegan Peppermint Patties
2016-02-08 12:08:46
Ingredients
2 cups shredded coconut
½ cups organic powdered sugar - vegan certified (organic should be)
½ teaspoon peppermint extract
3 tablespoons unsweetened dairy-free milk - I used rice milk, you can also use water
1 bag vegan chocolate chips, 283 grams
optional toppings: vegan candy canes, mint leaves
Instructions
1. In a food processor, with S-blade, combine coconut, powdered sugar, mint extract and process.
2. As it's blending, add in your milk or water one tablespoon at a time. You may need to pause to scrape down the sides and make sure everything is getting incorporated.
3. Process until the mixture sticks together when pinched between your fingers. You'll be forming it into patties so you don't want it too crumbly or liquidy.
4. Transfer mixture into a bowl and with your hands, grab big scoop and roll into a ball in your hands. Flatten on a parchment paper to about a ¼ - ½ inch high and use a cookie cutter to cut out your shape and place on a parchment paper lined baking sheet. Repeat until the mixture is used up. You can also take a tablespoon and form into circles with your hand for a less uniform look. I did a mixture of both. Place tray in the freezer to firm up.
5. While the patties are chilling, crush the candy canes for your topping if using. I found that processing to a dust works better so you don't have big hard chunks on your soft candy.
Melt the chocolate on the stove using a double boiler or a bowl inside a small pot with boiling water, stirring until fully melted.
6. Once chocolate is melted, remove your patties from the freezer and using a fork, gently lower the patties into the chocolate, shaking to remove the excess and ensuring they are fully covered.
7.Set on your parchment paper lined tray and repeat until all are covered. Move to the refrigerator to chill until serving or store in the freezer.
Cara Schrock http://caraschrock.com/