There are ways to make traditional vegan caramel that involve lots of time at the stove with a candy thermometer and loads of sugar and refined fats, and in my case, seem to be hit or miss due to the temperamental nature of candy making. The funny thing is, I actually learned to make traditional vegan caramel way before veganism was even on my radar. At the time, I was living with someone who ate plant-based due to extensive food allergies and I was determined to provide caramel apples. It was such a process, for me back then at least, and took me several attempts to get the proper temperature (and an accurate thermometer) but I eventually nailed it. Alas, I ended up letting the caramel cool to cut (don't get me started on how fun it is to cut caramel) and wrap into individual pieces of candy. The process was so intensive – again, for me back then in my non-cooking and baking days, that I haven't had the desire to try it again. But a life without caramel apples is no life at all.
We enjoy this no-fuss, stove-free version just the same for a healthier seasonal favorite, perfect for post-apple picking or a day at the pumpkin patch. You can top these with chopped peanuts for a traditional take or roll into shredded coconut, chopped vegan chocolate, or any topping you prefer.
This video was originally produced for the LOV3 Foundation.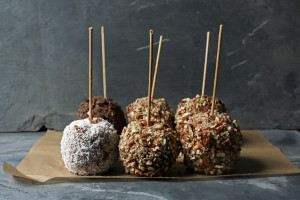 Vegan Caramel Apples - Refined Sugar-Free
2016-02-06 20:20:55
Ingredients
1 ½ cups packed medjool dates, pitted (about 15 dates)
2 tablespoons cashew butter (can sub nut-butter of choice)
Pinch of salt, about 1/8 teaspoon or more to taste for salted caramel flavor
2 tbs non-dairy milk, we used soy
1 tbs hot water
1 tsp vanilla extract
¼ tsp mesquite powder (completely optional, it adds a unique natural caramel-y taste but don't go out of your way for it)
6 apples
6 craft sticks or wooden skewers cut down as shown
1 cup chopped nuts or toppings of choice.
Instructions
1.If your dates feel really dry and stiff, pre-soak them in hot water for 10 minutes to soften.
2. Combine the dates, cashew butter, salt, dairy-free milk, water, and vanilla into a food processor and run until smooth. You may need to stop the processor to scrape down the sides.
3. Transfer date-caramel mixture to a bowl. You can try to dip and roll around the apples or just spread the caramel on with a knife or rubber spatula.
4. Roll the caramel-coated apple into a shallow bowl of chopped nuts and enjoy! Store apples in the refrigerator for up to 5 days.
Notes
You can use any left over caramel as a dip for sliced fruit, spread onto sweet breads and cookies, as a cupcake frosting or mixed into ice cream!
Cara Schrock http://caraschrock.com/