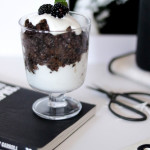 I was drinking a big jug of my chicory chai latte that I had chilled and I was instantly transported back to my childhood neighborhood, Country Club Hills, in the suburbs of Chicago. I took a moment to remember the summers when my Grandmother would come stay for a month and spend the days with one of my sisters and me. The other two sisters were way too mature and cool to be hanging around with the likes of us kids. But one of my favorite memories was when my Grandmother would walk my sister and I, along the busy road, down to the Ben Franklin Five and Dime / Arts and Craft store to get candy and friendship bracelet supplies. (Wow, I just discovered they still exist.) We would then walk over to a local restaurant called Village West. We had been to Village West more times than I could count, it was usually with our mother who would inevitably order one more cup of coffee to chat with friends as we were tugging on her pant legs begging to leave. But with Grandma, going there was such a treat. I would always order the rice pudding, a favorite dessert of mine since I was young, as long as people weren't trying to ruin it with raisins. Who does that?!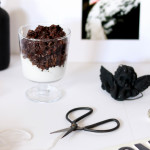 I decided there was no reason I couldn't use the perfectly spiced chicory latte as the base of a rice pudding. I don't usually stock white rice in my pantry, I stick to whole grains but brown rice didn't feel quite special enough. Black rice, or more technically named Forbidden Rice, always visually appeals to me, I mean it's black, how beautiful is that? And the health claims, as far as antioxidants, protein, amino acids, fiber, magnesium, and more, are even more impressive than those of brown, so basically it is not just a pretty face, this rice has brains too. Because of that, I do not see why this can't make a nice breakfast as well as dessert.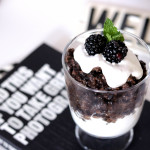 Always pressed for time, I cooked up what black rice I had on hand the day before feeling ahead of the game. And despite an unknowing husband sneaking spoonfuls of my stash to add to his lunch, I still had one cup left by the time I went to prepare the pudding. So this recipe makes enough for one big dessert or a small but satisfying dessert for two, especially when served with coconut whip and berries. I originally planned to make twice the amount but work with what you have! If you want to go a more traditional rice pudding route, you can omit the chicory (and the steeping water), I also used dates to sweeten it which you can replace with a liquid sweetener of your choice. Recipes are meant to be broken, use what you have and trust your taste buds! Because most of the fiber is still intact in black rice, unlike white, it will be a bit chewier than the traditional white rice pudding which gets pretty mushy. I happened to like the white mush but I enjoy this more wholesome version as well too.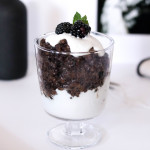 Unrelated, can we talk about aesthetics for a minute? We've all seen the Instagram accounts and blogs with strict and consistent aesthetics, to the point where you're able to know who posted the photo without even looking. I'm drawn to those accounts, I love the consistent look and try as I might, I cannot do it. I find myself getting really bored of creating the same look, I end up on autopilot and not putting in as much effort as I should. I do not feel challenged to go outside of my comfort zone and try something new with styling or editing – it just feels a bit one dimensional to me when I do it but love it from others. So these photos are a bit different for me and although they didn't turn out exactly like I envisioned and there are some technical issues (and why didn't I use a strawberry for a garnish instead?!), it was fun to practice a new way of thinking. I might play around with this overexposed, stark contrasting look a little more or maybe I'll move on to something else by the next recipe. I never know where this ADD brain will take me, I'm trying to just let it do its thing and not put limitations on myself. Maybe I'll eventually discover my unique look.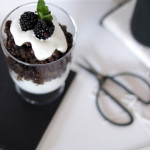 Chai Black Rice Pudding
2016-04-11 12:28:52
Serves 2
Using one of the healthiest bran rices and naturally sweetened with dates, this perfectly spiced rice pudding can be enjoyed for breakfast or dessert!
Ingredients
1 cup cooked black (Forbidden) rice
1/2 cup full-fat coconut milk
1/2 cup hot water for steeping
3 medjool dates, pitted
1 teaspoon ground chicory root
1 teaspoon cinnamon
1/4 teaspoon vanilla powder (or 1/2 teaspoon extract)
1/4 teaspoon mesquite powder
coconut whip and berries for topping, optional
Instructions
In a tea ball or bag, add the chicory and steep in the hot water for 4 minutes
While steeping, add the milk, dates, cinnamon, vanilla, and mesquite to a blender to sit. Add the chicory tea to the blender once ready and blend everything on high until smooth.
In a pot on the stove, add the cooked rice and the blended milk from the blender.
Simmer over low heat, uncovered and stirring occasionally, until almost all liquid has been absorbed, about 20 - 30 minutes.
Chill in the refrigerator, when ready to serve, transfer to individual dishes and top with whip and berries.
Cara Schrock http://caraschrock.com/