We had plans for an early morning hike at an expected 50 degrees so I was slightly surprised to see it flurrying when I woke up at 6:30. I don't keep up on the weather, it's going to do what it's going to do and I won't really prepare any differently. It's my little way of letting go. The snow was far too pretty to be bothersome, especially with my cardinal friend at the feeder.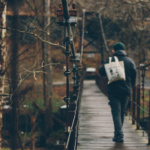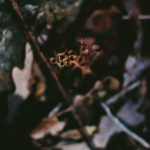 We sipped on smoothies for breakfast as I prepped some overnight oats for the week for Julian to eat before school, and got my sourdough bread dough out to rise. The snow eventually stopped falling so we packed up our favorite picnic sandwich, vegan egg salad, and headed down to Patapsco Valley State Park where we crossed the suspension bridge and kept our eyes out for birds.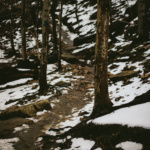 Because of the weather, the trails were muddy but this was small price to pay to practically have them to ourselves. Thanks to our recent heavy snowfall last week that the sun was still trying to make a distant memory, the waterfalls were nicely flowing. I brought along our monocular for bird sightings but aside from a few robins at the trail entrance, we only saw one blue jay and heard a few distant songs. Although, I did see some tightly furled leaves trying to emerge from the ground that reminded me of cinnamon sticks that made me entirely too happy.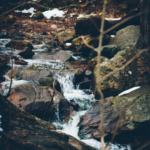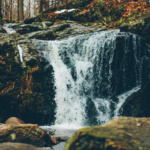 A few miles later, we sat down to enjoy lunch before heading home where I brewed a fresh pot of french pressed coffee to enjoy with a couple vegan brownies we picked up at a local cafe. It was the kinda Sunday you want them all to be.