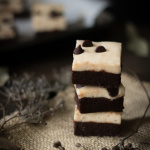 I had yet to experience the most perfect brownie since I went vegan. It's not because I'm vegan, I just don't often come across as many vegan brownies as I'd like and I apparently have very specific expectations of the perfect brownie that few fail to meet, even long before veganism was a thing in my life. Then I started to get into the whole black bean brownie thing, which is awesome, but they definitely don't produce what I've been missing.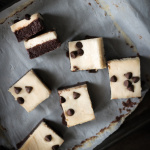 Fast forward to the other day when looking for a new easy dessert to experiment with, one that could work as a last minute potluck favorite, enjoyed by young and old alike, vegans and non-vegans. I flipped through Vegan Cookies Invade Your Cookie Jar looking for a nice traditional, yet reliable, cookie as my go-to that didn't call for anything that would require a special trip to the store. I've a good collection of baking essentials on hand so I wanted something I could generally always whip up should a dessert crisis strike (with kids, it happens more than one would expect). I came across the brownie recipe that I've passed by before without a second thought, purely for the fact it calls for silken tofu and who the hell always has that on hand? Oddly enough, I had 2 packs of silken tofu in my refrigerator that I had bought when a friend and I were working on something. I flipped the page once more to the same brownie recipe now with a thick layer of cheesecake on top. I was done. DONE. I would not rest until I tasted those for myself.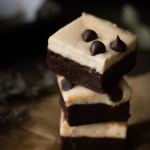 Since I wanted to get the full benefit of readily available silken tofu, I decided to make a batch of the regular brownies and the cheesecake version. I followed both recipes exactly, except for not putting in as many chocolate chips in the cheesecake. I didn't have mini chips they called for and I was already on a sugar overload so I thought we'd live without as much chocolate and just did a sprinkling on top. The plain brownies were everything I want in a brownie. The cheesecake version produced an even fudgier brownie with a creamy cheesecake later that was just right. I found not one but two go-tos.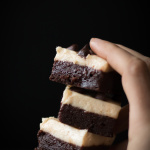 Vegan Cookies Invade Your Cookie Jar is a good book to have on hand, you can usually find it pretty cheap since it's been around for awhile and on the small side but I did see that someone shared the recipe online. Go get that silken tofu and get baking!