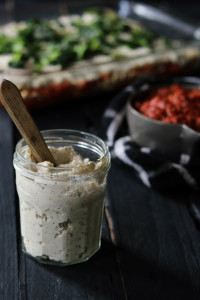 Growing up in an Italian household pasta was a diet staple, always served with a slow simmered homemade sauce. I knew I was really in for a special treat when I saw Mom's lasagna go into the oven. I wish I could say I carried on the tradition of a Sunday sauce that simmered on the stove for hours, but just learning how to cook in my late 30's, I'm entirely too comfortable popping open a jar of my favorite organic sauce plucked from the grocery shelves. Ricotta though, a good vegan version is something I longed for and although some good options are turning up in grocers across the country, they've yet to make it to my local store shelves.
I've tried a variety of my own, such as a cauliflower walnut combo, which were all fine substitutions but I was surprised to learn that my absolute favorite is a tofu based ricotta. As in eat it by the spoonful right from the jar. This works well to stuff in shells, to top pizza, and of course, lasagna. I make a double batch to properly fill a standard size lasagna with a little bit left over to plop on all those leftover broken lasagna noodle pieces or spread on a good rustic bread drizzled with balsamic vinegar and basil.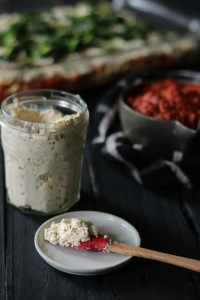 You can find the recipe for the tofu ricotta below but here's our quick lasagna assembly recipe that comes together in a breeze with store bought noodles, sauce, and the wonderfully convenient and delicious vegan protein products by Gardein.
For the lasagna, I prepared lasagna noodles according to the package.
I heated Gardein Meatless Italian Sausage crumbles (beefless crumbles work well too) until warm. I then pulsed them in a food processor for a few seconds to break them into tinier pieces for a meat sauce texture.
I returned the sausage to the saucepan and stirred in our go-to jar of sauce,
I steamed 4 cups of fresh spinach (or use frozen spinach right from the freezer) and layered everything along with the tofu ricotta in the following order: I lay down sauce in the bottom of the pan to prevent sticking, a layer of noodles, slather on the ricotta and top with spinach, then a layer of noodles topped with the meatless sauce, then repeat the cheese and sauce layers one more time and finally end with a little extra sauce and grated vegan parm, if you'd like.
I then bake the lasagna for an hour at 375 (or I crank it up to 425 when I'm particularly impatient!). I don't like to live off of convenience foods but it's times like this when I'm really thankful for Gardein products!
Tofu Ricotta Cheese
2016-02-16 19:22:45
Stuff into shells, top a pizza, or make a double batch for a lasagna - this creamy ricotta fool any omnivore!
Ingredients
1 block (14 oz) extra firm tofu
3/4 cup unsweetened non-dairy milk, I used rice
2 teaspoons lemon juice
1 teaspoons nutritional yeast
1/2 teaspoon sea salt
1/2 teaspoon pepper
1/2 teaspoon dried basil
1/2 teaspoon oregano
1/2 teaspoon parsley
1/4 teaspoon garlic
Instructions
Drain and press the tofu until all liquid is released, pat tofu dry
Crumble the tofu into a food processor and add in remaining ingredients. Pulse until well combined ensuring not to over-process it as you want a bit of texture.
Use immediately or store in an airtight jar in the refrigerator for up to 5 days.
Notes
Double the batch for a standard 9 x 13 lasagna.
Adapted from The Gentle Chef
Adapted from The Gentle Chef
Cara Schrock http://caraschrock.com/