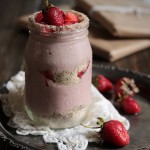 For a good portion out of the year, I'm relying on frozen berries for my smoothies. In Baltimore, our local fruit season is short lived, one can only eat so many apples, says the apple lover. So when strawberry season rolls around, it's adamn good day. I received the most wonderful strawberries in my Relay Foods Bounty Share, so perfect in their natural form, it felt almost blasphemous to do anything at all to them other than eat. My original plan was to roast some for a deeply flavored strawberry vinaigrette but they needed no roasting to bring out their flavor. I really wanted to make some into creamy popsicles but then as I started to gather up my ingredients, I knew waiting for them to freeze wasn't going to happen. An instant smoothie it was! Although does it still qualify as a smoothie if it is dessert in a cup? The only thing that would have made this better would be some vegan whipped cream on top but despite knowing several ways on how to whip up some whip in my kitchen, I had not one of my go-to ingredients on hand. So if you have it, go for it, but if you don't, the smoothie portion is creamy enough to mimic the taste and texture of the creamy goodness.
Strawberry Shortcake Smoothie
2016-06-17 08:48:41
Serves 1
A delightful and instant take on the classic dessert.
Ingredients
2 cups strawberries, divided
1 frozen banana
1 cup plant milk (I used rice)
1/4 cup rolled oats
1 medjool date, pitted
1 tbs chia seeds
2 tbs hemp seeds (optional; added for protein and adds to the creaminess)
1/4 - 1/2 cup almond meal for layering, adjust for personal preference
Instructions
Dice 1 cup berries, set aside with almond meal.
Blend everything else.
Layer almond meal, smoothie, diced berries.
Notes
Top with vegan whip!
Cara Schrock http://caraschrock.com/