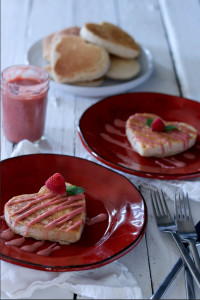 I recently completed a somewhat accidental 10 day sugar-free stint. When I say sugar-free, I don't just mean the white stuff, that is already a pretty rare occurrence in my life these days. I mean any sweetener of any kind aside from whole fruit. No maple syrup. No rice bran syrup. No coconut sugar or stevia or any other stuff we put on food to make it irresistible. I never thought I could refrain and maybe only did because my end goal was always in sight, less than 10 days from whatever moment I was in. Even I could do that, but it still felt like I participated in my first miracle. It honestly wasn't too difficult, although it meant I couldn't eat out not knowing where that legal addictive substance was lurking. I was feeling so incredible with way more energy and clarity than I've had in months, I didn't want to it to stop but when you're a part of a family unit who isn't quite ready to hop on the sugar-free train with you, it takes some quick planning I wasn't ready for or will-of-steal that I just don't have. I've since slipped up here (that latte I forgot was made with vanilla soy milk) and there (half of a lemon cupcake my husband pre-ordered for Valentine's day that I had to show my appreciation for) but I have way more resistance to it now armed with the experience of feeling so good without it. So when I decided to host a Valentine's Day brunch, I knew sweets were going to be somewhere on the menu and most likely in the form of heart shaped pancakes – I may be able to resist sugar but not heart shaped molds on Valentine's Day!
I omitted the sugar from my favorite pancake recipe by Isa Chandra on PPK and replaced it with cinnamon but that didn't eliminate the biggest sugar hurdle when it comes to this early morning carb cake. I knew I needed to replace the maple syrup and whipped up a strawberry coconut cream sweetened with whole medjool dates. Plenty sweet but from natural sugars combined with fiber, a little healthy fat, and plenty of nutrients there would be no blood sugar spike and cravings to fight off. You can use this cream to top ice cream, muffins, other sweet breads or mix in fresh berries and nuts and eat it like a yogurt.
Strawberry Coconut Cream
2016-02-16 18:26:33
Serves 4
Ingredients
1 cup fresh or frozen strawberries, diced
1 tablespoon lemon juice
2 medjool dates, pitted
2 tablespoons of coconut milk, or non-dairy milk of choice
2 tablespoons shredded coconut
1/4 teaspoon vanilla
Instructions
In a small pot, add the diced strawberries and lemon juice. Heat over low heat, mashing and stirring the strawberries as they begin to cook down, about 5-10 minutes.
While the strawberries cook, add the dates and coconut milk to a high power blender and blend until the dates are blended a bit - they don't need to be completely smooth.
When the strawberries are cooked down into a chunky puree, remove from heat and add to blender with the pureed dates. Add in the shredded coconut and blend everything until smooth and creamy.
Add in more milk if a thinner texture is desired or more shredded coconut to thicken.
Use immediately or refrigerate in a sealed container for up to 3 days.
Notes
Rice milk is a good substitute for coconut milk if a less coconut flavor is desired. Just look for a non-dairy milk with no added sugar.
Cara Schrock http://caraschrock.com/