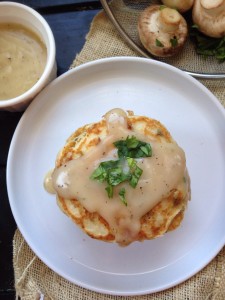 Sweets rule everything around me in the most delicious and unfortunate way but that's not the case for my husband who gravitates to the savory breakfast items. So this was created specifically with him in mind and inspired by my son's breakfast staple: a side of mushrooms with everything. These pancakes are unsweetened and fluffy, good with just a pat of vegan butter and even better served with the easy rosemary gravy below.
My son prefers these with a standard maple syrup but I'm pretty sure that is because he's 9 and finds everything better doused with sugar. My husband definitely opts for a gravy. And I, the mushroom adverse, even found these savory cakes to be a nice change of pace. They make equally a good breakfast or dinner. Serve with tempeh bacon and you're set.
Savory Mushroom & Spinach Pancakes with Rosemary Gravy
2016-02-06 19:54:49
These pancakes are unsweetened and fluffy, good with just a pat of vegan butter and even better served with the easy rosemary gravy below.
Pancakes
½ cups all-purpose flour
3 ½ teaspoons baking soda
1 teaspoon salt
2 tablespoons nutritional yeast
1 cup unsweetened, unflavored non-dairy milk, I used rice milk
2 teaspoons raw apple cider vinegar
1 tablespoon ground flax seed
½ cup water
3 tablespoons organic, unrefined coconut oil, melted
½ cup chopped raw spinach
1 ½ cups chopped white button mushrooms
Rosemary Gravy
½ of a "Not-chick'n" bouillon cube
1 ¼ cup hot water, more as needed
1 tbs corn starch
1 tbs flour, more as needed
1 tsp dried rosemary
pinch of dried thyme
black pepper to taste
Pancakes
1. Sautee mushrooms in water or vegetable broth until cooked and set aside
2. In a large bowl, sift together flour, baking soda, and salt. Stir in nutritional yeast. Make a well in dry ingredients
3. In a smaller bowl, whisk together milk, vinegar, and flax seed for about a minute, until frothy
4. Pour the milk mixture into the well of the dry ingredients, add the water and oil. Mix by hand with a fork until all ingredients are mixed, lumps are okay, be mindful not to over-mix.
5. Fold in mushrooms and raw spinach, set batter aside for a few minutes to rest, this gives the ingredients time to activate.
6. Preheat a stainless steel skillet or seasoned cast iron on medium heat and lower to low once hot. Melt a little coconut oil on the skillet if using stainless and quickly drop the batter onto skillet using ¼ cup scoop.
7. When the edges are golden brown and the top begins to look porous, flip the pancakes and cook until golden brown and cooked through.
8. Add a little more oil in between each round of pancakes added to the pan, but keep the heat on low so the oil doesn't start to burn the pancakes. Keep warm in foil until ready to serve.
Gravy
1. Dissolve the bouillon in the hot water in a small saucepan.
2. Stir in the corn starch and flour and stir until dissolved. Add in the rosemary, thyme, and black pepper.
3. Heat over low heat and stir frequently until thickened. You can either add more water if it is too thick or a little more flour if too watery until you reach your desired consistency. Add more pepper if needed and pour over pancakes.
Cara Schrock http://caraschrock.com/