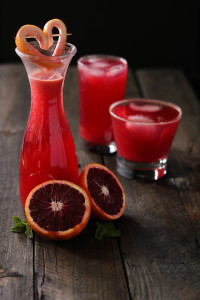 No matter how trite or cliche it may be, Valentine's Day comes around every year. Regardless of our current relationship status, it can give us that little nudge to celebrate the love in our lives just a little more than we do any other day of the year. We celebrated this year with a brunch at our house, initially for my boy and Mother-in-Law but at the last minute my parent's made it in time for the feast.
I made this tea to serve and I wish I anticipated how well it would have gone over and doubled the batch. Hibiscus flowers are often used for medicinal purposes and are high in antioxidants. Drinking the tea, which is made by steeping the flowers in hot water like other teas, is said to lower blood pressure and cholesterol, among many other potential benefits. Combined with the nutrients and antioxidants in red grapefruit and blood oranges, it's as good for you as it is delicious. I ended up adding in a juiced apple and pear when we realized we had extra guests on the way, just so I could increase the yield and they proved to be nice additions as well. We enjoyed it without any additional sweetener but you can always add in a liquid sweetener like Bee Free Honee or agave to taste.
Ruby Red Hibiscus Tea
2016-02-15 18:39:56
Serves 4
High in antioxidants with a beautiful red hue, this delicious slightly sweet and tart beverage will be the perfect addition to your festive brunch.
Ingredients
1/4 cup dried hibiscus leaves
2 cups water
2 red grapefruits
4 blood oranges (or any sweet oranges will do)
Agave or Bee Free Honee (vegan honey) - optional and to taste, we
Instructions
Bring the water to a boil and remove from heat.
In a mesh tea infuser, add the hibiscus leaves and add to the hot water. Steep for 5 minutes.If you do not have something to steep the leaves in, just add them to the water and strain after steeping.
While tea is steeping, juice the grapefruit and oranges. If you don't have a juicer, you can blend them and strain the pulp with a fine mesh strainer or nut milk bag.
Remove the tea ball from the water and add the tea to a serving a pitcher along with the juice.
Serve immediately over ice or chill in the refrigerator until ready to serve.
Notes
You can add in agave or Bee Free Honee (vegan honey) to taste, if desired, we did not use any sweetener and felt it was a great combination of sweet and tart.
Additional fruit can be added for greater yield, apple and pear both work well.
Cara Schrock http://caraschrock.com/