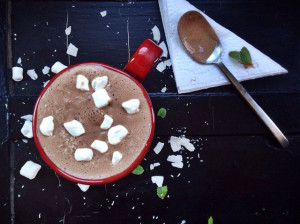 I had a 3 month stint on the Raw Til 4, 80/10/10-ish raw foods diet. I'll spare you the details of my experience, mostly all good, but one thing for sure I can say is that it eliminated my cravings for sweets for the first time in my life. I'm no longer attempting a fully raw lifestyle, but do still enjoy this treat I whipped up during that time when my little boy wanted nothing more than to drink hot chocolate together at night. It was hard to resist a request like. So not wanting to jeopardize a good thing and start the craving wheel turning again by introducing sweeteners, even the "healthy" kind, this mug here is sweetened with dates, keeping the beneficial fiber, which allowed me not to stray too far while still enjoying a classic with the family.
Sadly, my sweet cravings have come back full force once I transitioned away from fully raw, so I am enjoy this much more often these days. I ain't even mad.
Vegan Refined-Sugar Free, Frothy Mint Hot Cocoa
2016-02-06 19:43:33
Serves 1
A rich and creamy hot chocolate made with no refined sugar.
Ingredients
mug full of dairy-free milk, I used rice.
3 medjool dates, pitted
2 tablespoons raw cacao (can sub cocoa powder)
½ teaspoon mint extract or a few mint leaves
Instructions
1. Warm the milk on the stove until heated
2. Pour the milk in a high-power blender, along with the dates, cacao, and extract, blend until smooth.
3. Warm on stove for another minute if needed. Top with your favorite toppings like marshmallows, coconut, homemade, coconut whip or store-bought, non-dairy whipped cream.
Cara Schrock http://caraschrock.com/