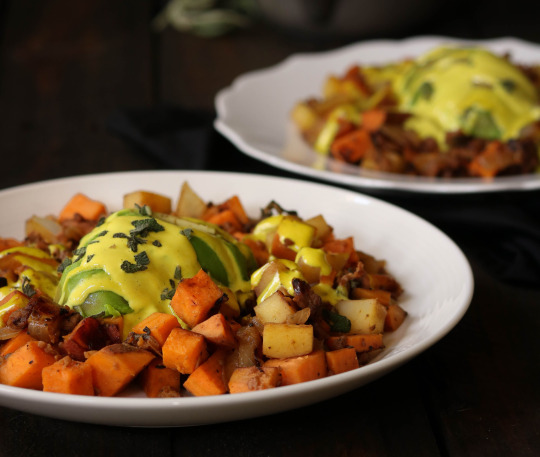 I often had reoccurring dreams of a breakfast I once had during a trip to Philly at the Vegan Commissary that I just never took the time to try to recreate at home involving hollandaise sauce – vegan, of course. It was my first experience with the sauce because traditionally it was served over runny eggs that I just did not find the pairing desirable at all. Or runny eggs in general, bleh. But my first hollaindaise experience was served over a nice, ripe avocado and that is a combo I can get behind.
No avocados I had brought home from the grocery store ever seemed worthy. That is, until some pretty perfect looking avocados showed up from Relay Foods. I wanted to do more with them then just casually dice them onto chili or smash them onto toast (which are both also delicious options). They were the perfect motivator to recreate this comforting savory breakfast on New Year's day. If it was any indication of how the rest of the year would go, I'm in for a tasty ride.
You can find the full recipe for vegan Poached Avocado and Tempeh Bacon Hash with Sage Hollandaise Sauce here at Relay Foods or below. Enjoy!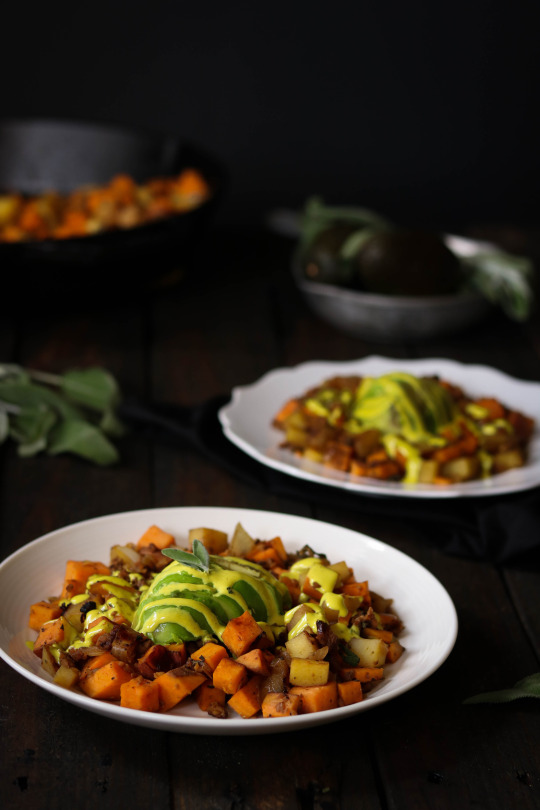 Poached Avocado and Tempeh Bacon Hash with Sage Hollandaise Sauce
2016-03-14 06:53:36
Serves 4
When nothing less than the ultimate savory, comfort breakfast will do, a creamy Hollandaise sauce steps right in. This time the eggs and butter are replaced with cashews for a heart healthy and animal friendly version that does not skimp on the rich creaminess we come to expect from Hollandaise. Don't be deterred by the list of sauce ingredients, with a blender it comes together in a snap. Served over a sweet potato and tempeh bacon hash with fresh avocado, you would never guess this hearty and satisfying meal was vegan.
Ingredients
1 Tbsp + 1 tsp olive oil for the sauce and a splash for the pan
6 oz organic smoky tempeh strips, coarsely chopped
1 yellow onion, diced
2 medium sweet potatoes, diced
5 small yellow potatoes, diced
3/4 cup raw cashews, pre-soaked in hot water for 30 minutes
1 cup + 2 Tbsp rice milk + up to 1/2 cup more for thinning if necessary
1 Tbsp lemon juice
1 Tbsp nutritional yeast
2 Tbsp + 3/4 tsp fresh sage, chopped, 2 Tbsp for the hash, 3/4 tsp for the sauce
1/4 tsp apple cider vinegar
1/4 tsp turmeric powder
1/4 tsp salt
1/4 tsp pepper
1 Tbsp maple syrup
2 ripe avocados
water for steaming
Instructions
Add a splash of oil to a large pre-heated pan, a cast iron skillet works best. Once the oil is warm, add the chopped tempeh bacon, and cook for about 5-7 minutes, stirring occasionally until crispy around the edges.
Add the onion to the tempeh and sauté for about 5 minutes, until translucent.
Add in the potatoes and cook for about 20 minutes, until slightly tender but still a little undercooked. Stir occasionally to ensure they do not stick or burn.
While the potatoes are cooking, prepare the hollandaise sauce by rinsing the pre-soaked cashews under cold water and add to a blender.
Add all remaining ingredients to the blender: rice milk, olive oil, lemon juice, yeast, sage, vinegar, turmeric, salt, pepper and blend until creamy, adding in extra milk if necessary to thin to desired consistency. Transfer to a saucepan to warm just before serving, if desired and reserve to the side until needed.
About 5 minutes before the potatoes are fully tender, stir in the maple syrup, sage, salt, and pepper to taste. Cook for another 5 to 10 minutes, until the potatoes are tender and all flavors have blended.
Once the hash and sauce are prepared and ready to serve, slice the avocados in half and remove the pit. Carefully scoop out the avocado meat with a spoon so you have fully intact halves.
Place the avocados in a steamer basket, pit side down, and lightly steam for just a couple minutes until they soften. Alternatively, you can leave them completely raw.
Since avocados begin to oxidize so easily, plate the potato hash onto 4 serving plates while the avocados steam. Quickly transfer one half of an avocado on top of the hash on each plate and spoon over the hollandaise sauce. Garnish with additional chopped sage and serve immediately.
Notes
If you've thinned your sauce too much, you can always throw in more cashews, even ones not pre-soaked, to re-thicken.
Cara Schrock http://caraschrock.com/