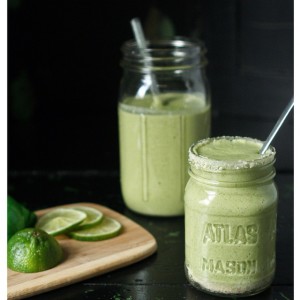 I explained how my love for key-lime anything began when I introduced my mini key lime pies. I would have some form of key lime pie at least once a day if I could. I can't eat pie everyday though, that would be obscene! But whaat iiifff, that pie was in green smoothie form? LOOP HOLE. Enjoy this tasty, tasty loop hole.
Key Lime Pie Smoothie
2016-02-09 13:36:29
Ingredients
1 1/2 cups non-dairy milk - I used rice
1 whole lime, peeled
1 very small handful of spinach
1 large banana, frozen if possible
1/2 cup rolled oats
1/2 tsp vanilla
1 tbs chia seeds
3 tbs hemp seeds
juice of 1/2 lime, or to taste to your desired tartness
1/4 cup almond meal (optional but recommended)
Instructions
Add all ingredients except for the almond meal into a blender and blend until smooth.
To serve, layer the bottom of the cups with almond meal (and the rims by lightly wetting first, if desired) and pour in the smoothie. Eat with a long spoon getting some of the almond meal into each bite for "pie crust"
Cara Schrock http://caraschrock.com/