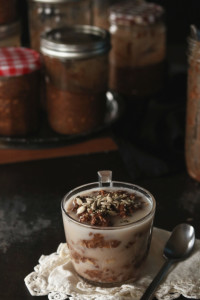 Quick and healthy breakfasts can be a challenge with the morning rush, especially when you wake up with a sweet tooth like I do. My day no longer feels right if I don't start it off with cruelty-free Chocolate Peanut Butter Overnight Oats because they require no cooking, can be prepared in under two minutes, and are ready to grab and go in the morning. I used to make 5 jars at a time so I would have breakfast ready all during the week but now my oatmeal adverse son caught the overnight oat bug. I've also passed this on to my non-vegan sister, since she has to be up and out the door for work before the sun rises, with great reviews.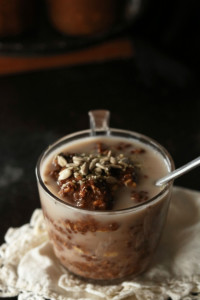 CHOCOLATE + PEANUT BUTTER OVERNIGHT OATS - Vegan | Gluten-Free | Soy-Free
2016-02-08 12:24:57
Serves 1
Make this in a big batch so you have enough for the whole week!
Ingredients
¼ cup uncooked rolled oats
½ banana
1 tablespoon of chia seeds
½ cup plant or nut milk of your choice, shown with rice milk
1 tablespoon of raw cacao or cocoa powder
1 heaping teaspoon of nut butter of choice, we used peanut butter - add more for a nuttier taste.
Toppings of choice for the next day: nuts, fruit, seeds…
Instructions
1. Mash the banana and chia seeds together in a jar.The banana puree will act as the sweetener so you want it mashed well to mix in.
2. Add the oats, cacao, peanut butter, and milk and mix again. I look on the outside of the jar to see if there are any chia seed clumps along the bottom and make sure everything is incorporated well.
3. Store in an airtight container. Refrigerate overnight and serve topped with fresh fruit, nuts, or seeds, and eat chilled right from the jar. I find I like to add a little extra milk in the morning since all of the milk will be fully absorbed and I love to add nuts for a little crunch.
Cara Schrock http://caraschrock.com/