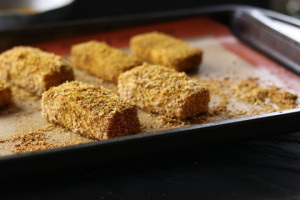 The flavors of India have to be some of my favorites – so warm and fragrant. I love a blend of these Ayurvedic seasonings on everything from roasted cauliflower to Indian street tacos. I really enjoyed it just as much on this encrusted tofu which we served with quinoa and a vegetable curry. Although basmati rice may have been my preference, we try to stick with the higher protein and fiber-full grains. Although I just ate left over pumpkin pie with a scoop of ice cream *shakes fist at ThanksLiving* which is exactly why when I do cook a meal, I really aim for a good balance because I know I get plenty of imbalance with my eating! The struggle is real, y'all.
The biggest struggle with this tofu though, is trying to not plow through the entire block yourself!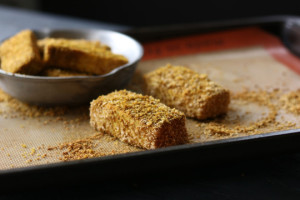 VEGAN GARAM MASALA CRUSTED TOFU
2016-02-08 12:00:13
Serves 4
Ingredients
½ cup Panko breadcrumbs (or gluten-free breadcrumbs of choice)
1 tablespoon garam masala powder
1 teaspoon curry powder
¼ teaspoon turmeric
¼ teaspoon black pepper
pinch of cinnamon
pinch of sea salt
¼ cup of unsweetened soy milk (or dairy-free milk of choice)
1 block of extra-firm tofu, pressed
Instructions
1. Preheat oven to 350 and get a baking sheet lined with parchment paper or slipmat ready.
2. Once tofu is fully pressed and patted dry, slice the entire block in half lengthwise and the two halves in thirds. It really doesn't matter how you cut it, just get the tofu into slabs. I ended up with 6 slabs, two for each of my small family.
3. Mix all of the dry ingredients, Panko through salt, and pour onto a plate or shallow bowl.
4. Pour the milk in a little bowl and set next to the panko mixture, like an assembly line.
5. Take a slab of tofu at a time and using a basting brush, baste the tofu with the soy milk and quickly roll it in the panko crumbs using your hands to make sure the tofu is fully covered on all sides. Gently set slab of tofu onto your baking sheet. Repeat until all tofu is covered in the panko mixture.
6. Bake tofu for 40 minutes or until lightly browned along edges, flipping halfway through.
Cara Schrock http://caraschrock.com/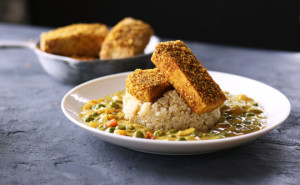 Serve tofu with a grain and veggies of your choice along with a dipping sauce or curry. I made a simple curry using full-fat coconut milk, lots and lots of curry powder, a little garam masala, dash of turmeric, salt and pepper. I had sauteed ½ yellow onion, carrots, yellow bell pepper, and mixed in frozen peas with the spices before pouring on the milk and adjusting the seasoning for taste. I know that's not a proper recipe but I was just winging it until it tasted good – your taste buds won't let you down!