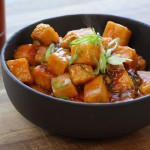 I haven't been experimenting in the kitchen much lately and feel sad for slacking on the food sharing since it's something I really enjoy. Winter (and I guess Fall?) funk is partly to blame but also because I got involved in a project with a talented group of chefs, aspiring chefs, and bakers. My little basic home cook kitchen escapades took a back seat while I enjoyed their creations and helped by photographing them, brand development, marketing, along with other behind the scenes work that required daily dedication growing our small business that touched on all of my personal interests and skills.
I was certainly cooking the necessary meals to maintain some level of balance and routine for the family while juggling two jobs and mothering, but not much worthy of sharing as my well of creativity had been focused elsewhere. So I wanted to share with you a few Other People's Recipes that my family has been enjoying and working in to our regular rotation that I recommend you try. They are all pretty easy, at least not too difficult and complicated if you tend to cook over going for convenience foods. Exactly what I look for in a busy weekday dinner. Some will link you to the recipe but a few will require the cookbooks. If you're not new to vegan foods, you may very well own the books already, but if not, they are ones I feel are worth investing in.
Downhome Curry with Broccoli from Isa Does It – by far one of my favorite meals. Steller! Fantastic! It has all of the flavors and textures I love, with the family's favorite staples: tofu, broccoli, and potatoes, brought together in harmony by a aromatic curry sauce that comes together all in one pot. I think we've been having it once a week for awhile now.,
Lentil-Quinoa Stew with Lots of Kale from Isa Does It – I can't get Julian to eat lentils which is such a good source of protein and so many things, and Bryan isn't big on kale, but for some reason they both happily enjoy this meal, even if they refer to it as slop. They enjoy it too much. I was looking forward to lunch leftovers and there weren't any beyond a thermos full for Julian's school lunch. Another filling and easy meal.
Steamy Beany (seitan) Sausages from Isa Does It – which is almost identical to this recipe. The only difference is it calls for pinto beans instead of white. It's my go-to book, what can I say! I used to come across recipes that would suggest using homemade seitan over store bought and I was like that will never happen. Then one day while looking for new recipes to try, I looked over this recipe and saw how amazingly easy it sounded and I had everything already on hand. Seitan can be a weird one for me depending on texture so I didn't have high hopes but it turned out great, we all enjoyed it. I've also since made the batch into 16 small sausages instead of 4 big ones, and used the Smoky Maple Sausages seasonings for breakfast. Another hit and you can make up a bunch at once and freeze.
Ranch Salad with Buffalo Tempeh – yep, another Isa Chandra's creations. She's the Queen of Vegan food for a reason, no? I've been trying to mix up my major protein sources, even though I could eat tofu every day and die a happy person. Tempeh is always hit or miss for me, aside from tempeh bacon on BLTs, of course. Beyond that, I just never really know what to do with it. I found that we all enjoy tempeh a little more when it's crumbled up or in small chunks and my guys love their buffalo anything. I only use the tempeh portion of the recipe, sometimes I make my own ranch, often I'll buy Hampton Creek or Daiya's. I also started serving it with steamed cauliflower mixed in with the temeph and sauce since it satisfys that Buffalo Cauliflower Bite craving with much less work. It also helps bulk up the dinner a bit. Besides, mmmm…cauliflower.
10-Spice Vegetable Soup with Cashew Cream from Oh She Glows (first) cookbook – I never tire of this soup. I make it up for my husband and I to eat for lunch for the week. Julian doesn't like it so there's no point in making it for dinner. It's also a great way for me to get Bryan to eat sweet potatoes and I don't always like eating grains. It's nice to have a completely grain free soup. I often mix in more veggies, usually squash or zucchini. It's filling and a good way to get in a bunch of veggies at once.
General Tso's Tofu – The boys get really excited over this one. I usually mix in some kind of sauteed red pepper into the mix and serve with broccoli, I don't know why, just because we like broccoli and I like extra vegetables. We usually serve over a whole grain even though Julian begs me for white rice. I'm such a mean mom sometimes. :
I'm feeling a little lift of the fog and have been wanting to get back into the kitchen to mess around so hopefully I'll have something fun to share soon. In the meantime, I hope you see some new recipes you'd like to try.