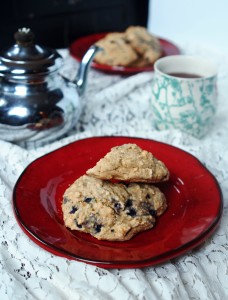 I don't know what it is about fennel but I want to add it in to places it doesn't belong. There's something about that mild licorice-like flavor that gets me, despite not being the biggest fan of black licorice. Fennel in a pastry just felt like a logical move. It's subtle here, but it works, and I think I may slowly increase the amount over time. These scones are light and I'd say lean more towards the muffin side of the scone spectrum which might be why I can't get enough. You can swap out the orange zest for your favorite citrus flavor or remove it all together and let the fennel star shine. Add in ½ cup of your favorite chopped nuts if you're feeling wild.
Vegan Fennel + Blueberry + Orange Zest Scones
2016-02-06 19:34:21
A light and muffin-like scone with a wonderful mix of flavors.
Ingredients
3 cups whole wheat pastry flour
3 tablespoons white sugar (organic or vegan verified)
2 tablespoons of coconut sugar (or brown)
1 tablespoon of baking powder
¼ teaspoon of salt
¼ cup unrefined coconut oil, firm at room temp, packed and level in measuring cup
3 teaspoons fennel seeds, crushed with a mortar + pestle or back of spoon (2 tsp works well if a very subtle fennel taste is preferred.)
1 ¼ cups plain non-dairy milk, I used rice
2 teaspoons of vanilla extract
¾ cup blueberries, fresh or frozen
The zest of a large orange, about 1 to 2 tablespoons (optional)
Instructions
1. Preheat over to 425°F and line a baking sheet with parchment paper
2. In a large bowl, sift together the flour, sugars, baking powder, and salt
3. Cut in the coconut oil until there are no large chunks left. I find it easiest to mix and break up with my hands.
4. Stir in crushed fennel seeds
5. Make a well into the center of your dry ingredients, pour in the milk and vanilla extract, mixing lightly just until almost fully combined. The dough should be pretty thick, when you go to put it on the pan, you want it to plop into a messy heap, not spread. So add more flour here if it's too runny.
6. Gently fold in the blueberries and orange zest, making sure not to over-mix
7. Scoop the dough onto the pan using 1/3 cup measuring cup and plop onto the pan. You can brush with a little rice milk and sprinkle with sugar
8. Bake for 13-15 minutes or until golden around the edges. Move to a cooling rack to cool.
Cara Schrock http://caraschrock.com/