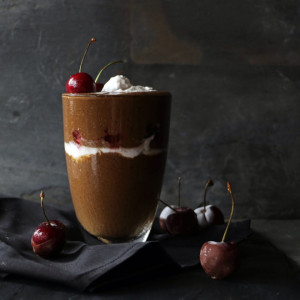 You'll quickly notice a theme with my smoothies, and that they are all remakes of really decadent desserts. I have a sweet tooth that just won't quit so I found a loophole to satisfy those cravings without feeling terrible immediately afterwards, both physically and mentally. I find this one reminds me of brownie batter right from the bowl.
Chocolate Cherry Smoothie
2016-02-07 14:49:18
A decadent smoothie, similar in taste to brownie batter but made with whole foods, no sugar, and even sneaks in some leafy greens.
Ingredients
1 cup plant or nut milk - I used unsweetened Rice milk
3 tablespoons raw cacao
1 cup (or more) pitted cherries - I used frozen
½ avocado (can sub ½ frozen banana)
1 big handful of spinach
1 tablespoon of chia seeds
3 tablespoons of hemp seeds, optional for extra protein and healthy fats
dash of cinnamon
Instructions
Throw all ingredients into a blender and blend until smooth.
Notes
For a sweeter smoothie, add in a pitted medjool date. Shown here layered with additional frozen cherries and coconut whip
Cara Schrock http://caraschrock.com/