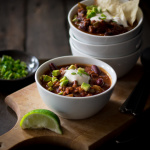 My dad is the amateur chef in the family. He's the one spending hours in the kitchen and experimenting with new recipes and veganizing old family favorites for me. He hosts themed dinner parties for his neighbors and has the kitchen tools and serving ware that can rival a small catering company. But growing up, my mom did almost all of the cooking, like many mothers back in the 70's and 80's. I don't look back on my mother's cooking as anything particularly spectacular or innovative, cooking typically meant something from a box or the freezer. In her defense, this was the age of convenience foods and science ovens. She was also a working mom with 4 kids, all with various sport schedules to coordinate and even though I don't think of her cooking as anything notable, I do remember her always being in the stands at my games. As much as we like to think Mother's are superhuman, there is a limit to just all what they can accomplish in a day and from-scratch cooking just wasn't more of a priority than seeing your kid throw the winning pitch (or striking out in my case).
There was, however, one meal that always stuck out and when the slowcooker was on the counter, you knew to get excited because it meant chili night. That was the one meal that I felt my mom did better than anybody and the fact it required actual ingredients to be put together, I was impressed. But this was coming from someone who thought a microwaved S.A.D. was fine dining, so I still can't say for sure that it was a culinary masterpiece but regardless, I'll always look back on my mom's chili with fond memories. I attempted to replicate it many times and although I came close, it was never Mom's.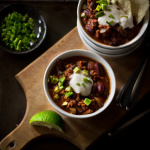 Enter veganism and exit mom's chili. Kidney beans were about the only similarity in what I was now calling chili as beef was replaced with quinoa and we added all kinds of vegetables that don't belong in a traditional chili. That worked for awhile and we were always happy to eat it but it never felt like chili. I remained adamant about not using vegan meat because this felt like such an easy way to get a balanced and healthy whole foods meal until the day a friend recommend a recipe that called for Gardein Beefless crumbles. Her family had been plowing through it for weeks so I gave it a try to mix things up. It was really quite good and consistently requested by the family but being the lazy cook that I am, I always felt like it had about 10 ingredients too many so I slowly started to chip away at the ingredient list.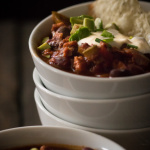 Then one evening, I was out working on a project and my husband was on dinner duty. I didn't get his text in time asking for the chili recipe I've been using. Like any modern day man, he threw some stuff into a pot and made it work. Always happy to sit down to a meal I didn't make, I dug right in and expected to be pleased but wasn't expecting the childhood flashbacks that began to emerge. Finally, this was it, my husband managed to create the closest thing to Mom's chili I've had since Mom's chili. It's the simplest of all variations we have done, there is nothing fancy about it, which probably explains why it's so similar to my basic cooking mother's, but to me it's the best. Whether you find it the best or not, is probably dependent on what kind of memories you have associated with this go-to winter bowl of comfort because I'm sure the emotional aspect of it is why I like it so much. Because it is now officially Our Chili Recipe, it must be shared with the world and fellow 80's latchkey kids everywhere.
I'm always hesitant to share such simple recipes because I assume people are way more advanced than I am in the kitchen and people don't need recipes for the basics. But the biggest question I'm asked from people interested in going vegan is for simple and quick recipes that can be made on busy week nights. I know those meals well and when some recipes say "simple and quick" I realize we have very different ideas of those words. I feel this one is as simple as you can get outside of opening a can of store bought chili. There's a little chopping but I've yet to figure out how to eliminate that need with cooking anything aside from ordering carryout. Beyond that, it's opening a few cans and spices and heating, you eventually get to the point where you can just eyeball the spices too. So tuck this one away for when you want something cozy or need to cook on autopilot in a hurry. You can always throw it in a slow cooker, or simmer it for hours, or just scarf it down as soon as it's hot. Food is flexible like that. I find it to have just the right level of heat but you know yourself best. Not all jalapeno peppers are created equal so if you're sensitive to heat, maybe hold off on the cayenne until you taste it. On the contrary, you may find it needs more! If you don't want to use any kind of vegan beef crumbles, you can try substituting a grain like bulgar or quinoa. I like bulgar because of it's texture and that it's about 1/3 of the price of quinoa. I would guess you might need about 4 cups cooked grain to replace the meat and maybe increase the beans.
Vegan Beefy Chili
2017-02-09 09:06:17
Serves 6
Just like mom used to make.
Ingredients
1 bag of frozen vegan beef crumbles
1 Large yellow onions, diced
1 green pepper, diced
1 small jalapeno, finely chopped
1 (14 ounce) can ORGANIC FIRE ROASTED PETITE DICED TOMATOES
1 (14 ounce) cans tomato sauce
1 can of water - using the tomato sauce
3 tablespoons chili powder
2 tablespoons cumin
1 teaspoon salt
1⁄2 teaspoon cayenne pepper
1⁄2 teaspoon paprika
1 (14 ounce) can kidney beans, drained and rinsed
1 (14 ounce) can black beans, drained and rinsed·
1 tablespoon oil for sauteeing
toppings of choice such as vegan sour cream, shredded cheese, avocado, chives, or lime
Instructions
In a large heated pot, saute the onions and peppers until tender.
Add the beefless crumbles to the onion and peppers and brown.
Add diced tomatoes, sauce, spices, and water, bring to a boil.
Add beans, cover and simmer at least 20 minutes
Notes
This can also be cooked in a slow cooker, just do the first two steps, sauteing the vegetables and beef before adding everything into a crock pot and cook on low.
Cara Schrock http://caraschrock.com/