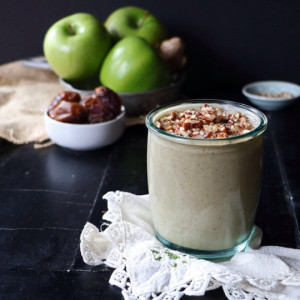 My love for caramel apples knows no bounds so of course I'll come up with the breakfast-friendly version! Made with nothing but fruit and seeds for protein, and topped with nuts for a little healthy fat, it's worthy of both breakfast and dessert title.
Caramel Apple Smoothie - Vegan
2016-02-07 09:30:34
A caramel apple that you can enjoy for breakfast! Made from whole foods with no added sugar but don't let that stop you from enjoying it for dessert too!
Ingredients
2 big Granny Smith apples, cored but with peel
3 medjool dates, pitted
1 ½ cups of filtered water
½ frozen banana
small piece of fresh ginger (about the size of the tip of your pinky finger)
1 tbs chia seeds
3 tbs hemp seeds
chopped pecans or walnuts for topping
Instructions
Blend everything in a high-power blender until smooth, adjust for taste, adding more apple if you want it more tart or another date if you want it sweeter, top with chopped nuts.
Notes
Optional: add in a tablespoon of peanut butter before blending (just because everything is better with peanut butter!)
Cara Schrock http://caraschrock.com/