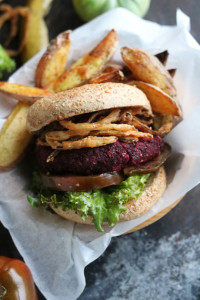 If there is one dinner I can count on making my family do a happy jig, it's beet burgers. So this is just a quick little write up of the Bulgur + Beet Burger I posted a couple posts back because everyone should experience a meal that makes them do a happy dance!
It's a very slight adaptation of PPK's Quarter Pounder Beet Burger which can be found here. It's by far the best beet burger I've had and I only varied it to use what I had on hand. We also have eliminated most of our brown rice use in favor of bulgur for it's higher fiber and protein content and the fact it cooks up in a jiffy, unlike brown rice that isn't "instant". I love the fluffy texture and slightly nutty taste, it's a grain I wish I tried a long time ago, definitely my favorite now. I tend to make extra grains when I'm cooking so I always have a left over grain on hand for lunches and quick meals. It really makes this recipe come together much quicker if you don't have to worry about cooling the bulgur. But if you need gluten-free, this would definitely work with rice or quinoa, or whatever grain you choose but you'll have to substitute the breadcrumbs as well.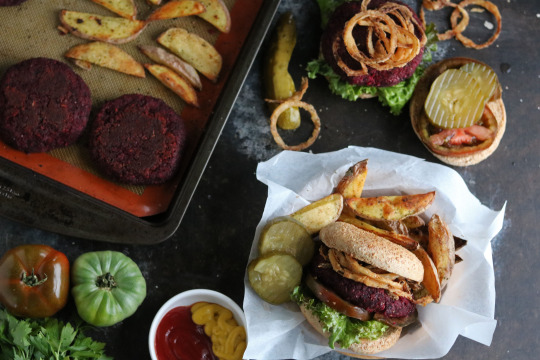 This is a very forgiving recipe but for me the key ingredients are the beets, thyme, and fennel. I love that combination of flavors! In case it's not super obvious here, I don't really measure anything to the T, I just use whatever sized vegetables I have on hand but best estimates for you below.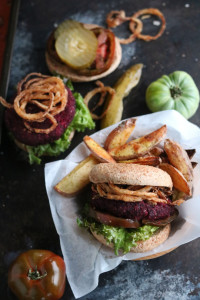 They are pictured with fried onion strings. I've never dipped anything in so much oil and I felt like I sold my soul to do it, but man, it was a great touch. I thinly sliced an onion with a mandolin and pulled the pieces apart. I covered the onion slices in non-dairy milk while I poured some all-purpose flour onto a shallow dish and added some simple seasoning like salt and pepper. I added about 2 cups of peanut oil to a dutch oven pot and once the oil was hot but not smoking! (test with a little piece of onion to see if it sizzles) I removed the onion from the milk, shook off the excess, and dredged it through the flour and shook the excess flour. I dropped them in by the handful into the oil and removed with tongs once browned, a few minutes later, and set them on paper towels to cool. But next time I think I may use alfalfa sprouts instead for a healthier touch – er, maybe I'll alternate.
Bulgur & Beet Burger - Vegan and Soy Free
2016-02-08 12:16:24
Ingredients
1 ½ cups cooked bulgur, then cooled
1 cup cooked brown or green lentils, drained well and cooled
1 large beet, shredded - I used a beet bigger than my fist and didn't peel it but you may prefer to peel the beet first
½ medium onion, roughly chopped
2 cloves garlic, minced
½ teaspoon salt
Fresh black pepper
1 teaspoon thyme, rubbed between your fingers
½ teaspoon ground fennel (or finely crushed fennel seed)
2 tablespoons peanut butter
½ cup panko breadcrumbs
Instructions
1. Peel beet, if preferred, and shred with a box grater or shredder attachment of your food processor. Once shredded, add to food processor with S-blade along with cooled bulgur and lentils. Pulse until the mixture still has texture but mixed together.
2. Add the onion and garlic to processor and pulse a few times more to incorporate. Transfer mixture to a bowl.
3. Add in remaining ingredients and mix well with hands, taking time to make sure the peanut butter gets incorporated well and no chunks remain.
4. Form mixture into patties, if it's too sticky, you can refrigerate the mixture for 30 minutes while you prepare the toppings and side dishes. I get 6 good sized, hearty patties but you could get 8 out of the mix.
5. Heat skillet over medium heat and add a thin layer of oil. Once oil is ready (but not smoking!) add the patties and cook one each side about 5-7 minutes. A little char is a nice touch but you want to make sure they are heated through. I cook up the entire batch but set ½ aside to freeze and eat the next week.
Adapted from Post Punk Kitchen
Cara Schrock http://caraschrock.com/